Below the Mark (ca. 1908)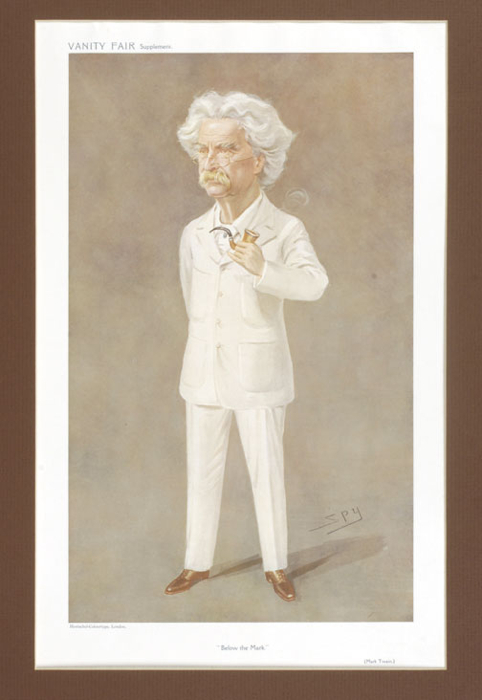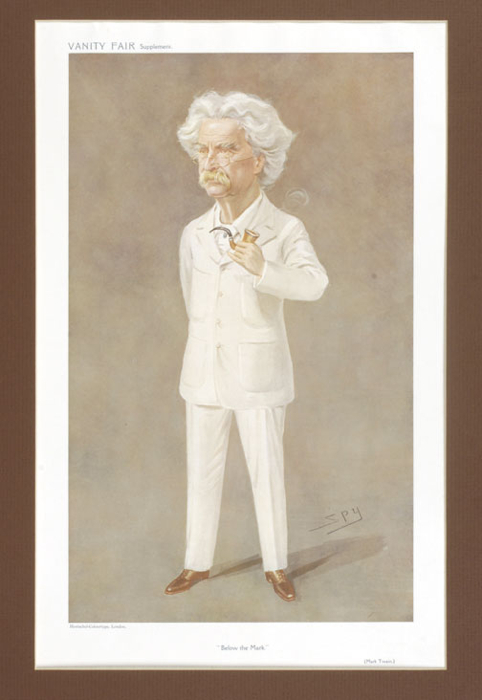 Below the Mark (ca. 1908)
Spy (Sir. Leslie Ward for Vanity Fair)
Below the Mark [c. 1908]
Signed lower right in lithographic form, "Spy"
Measurements:
13 x 10 in. (33 x 25 cm)
Biography:
According to the Vanity Fair magazine biography page (here in photocopy form) that would have accompanied the original print, the following biography of Samuel Langhorne Clemens is included under "Men of the Day":
"Samuel Langhorne Clemens, commonly known as Mark Twain, was born in Florida, Missouri, U.S., on the 30th of November, 1835. This date is greatly to his credit, inasmuch as it makes him out to be at least an hundred ; for we have every respect for grey hairs and we wish no man discontinuance. It is further to Mr. Clemens's credit that in our English, "Who's Who" he describes himself as an "American novelist and lecturer" – not you will note, a humorist.
We need not say that Mr. Clemens has had a career. It is one of those unfortunate careers which everybody knows about. Little boys in the street can tell you that Mark Twain was "once a pilot on the Mississippi." and that at the age of thirteen he became a printer. At fourteen he became a humorist, and at fifty he left it off, having discovered that it was a bad habit. Since then he has written novels and made speeches. The novels are generally conceded to be "not so dusty." The speeches are forgotten, but if you take the trouble to dig them out of the newspaper files you will find that in each of them Mr. Clemens manages to accuse himself of theft. "I once stole a bishop's hat," he says, amid the plaudits and laughter of the overfed; "I once stole a crowbar"; "I levanted with the ship's anchor and some gas pipe," and so forth. This is Mr. Twain's joke, and it never fails to set the table in a roar. In 1867, Mr. Clemens wrote "The Jumping Frog," and essay in sheer and dismal solemnity which has captivated four hemispheres. "The Jumping Frog" was notable chiefly for it's references to "this yere Smiley." It was the parent of cartloads of American humor dumped on us by the late Chevalier Alden and Mr. Robert Barr. We have suffered accordingly; but it is now all over. Mr. Clemens also write "The Adventures of Tom Sawyer" and "The Adventures of Huckleberry Finn"; and he also wrote "Puddinhead Wilson." He also write "A Yankee at the Court of King Arthur," and when he went to the Court or Garden Party of King Edward VII., and said "Howd'y?" to her Majesty the Queen, he is understood to have left this work at home with his bath towel. Which reminds us that last year Mr. Clemens was in our midst. He went to Oxford to see the Pageant, and he went to the Hotel Cecil to dine with the editor of "punch." The editor of "Punch Brothers, Punch." You scratch my back ; I'll scratch yours! Then of course, Mr. Twain went away and the Ascot Gold Cup went a-missing. Oh, dear! oh, dear!
Roughly, Mr. Twain is understood to be a nice man, He has white hair, a ferocious, lamby, white moustache, and he wears white dress suits. He is believed to have refused enormous offers of money for stenciling space on these suits. He is a sportsman and dislikes Mrs. Baker Eddy and the King of the Belgians. The people in America who do not happen to love him have to put up with him. The people of England love nobody else – when he happens to be here."