Bahamas Beach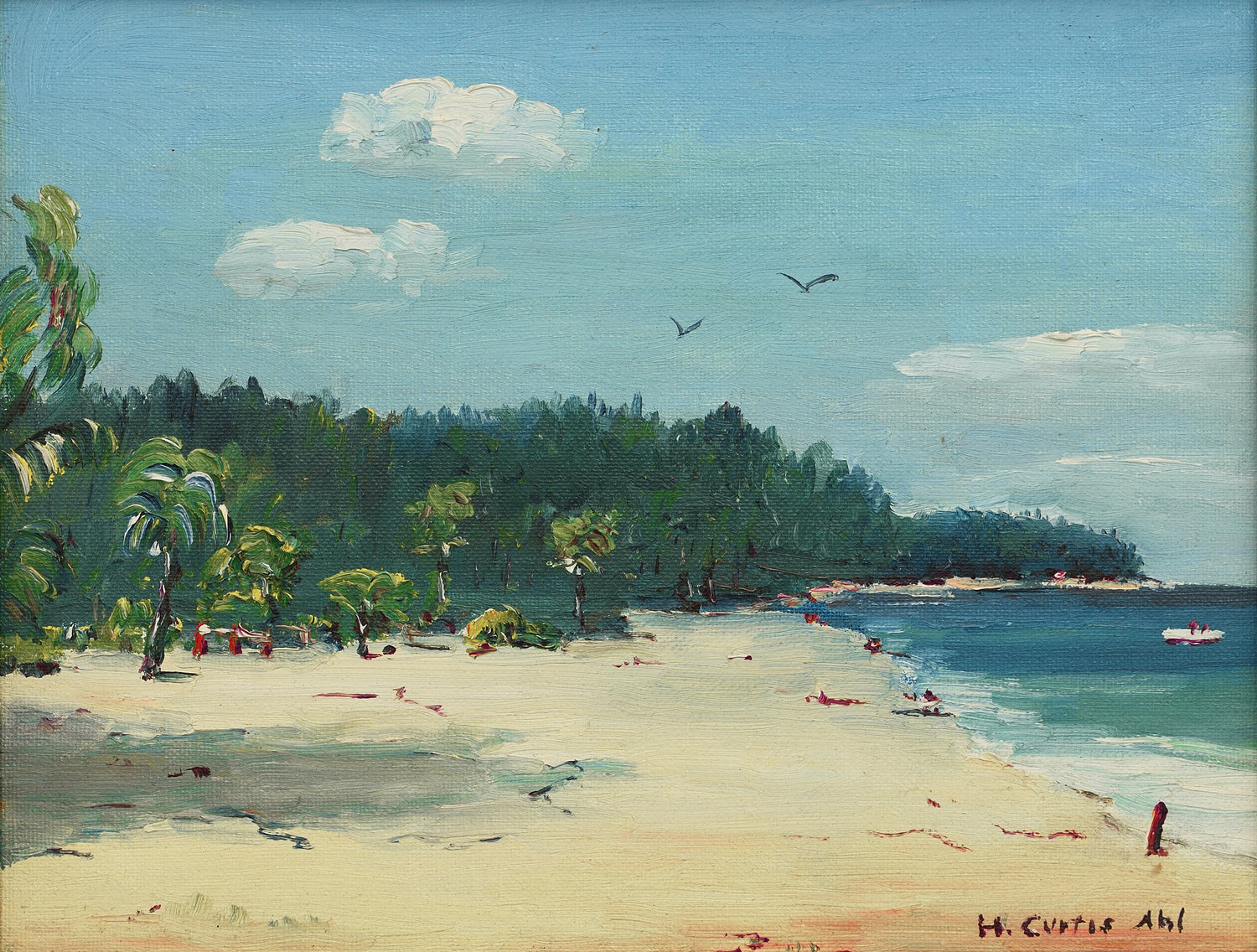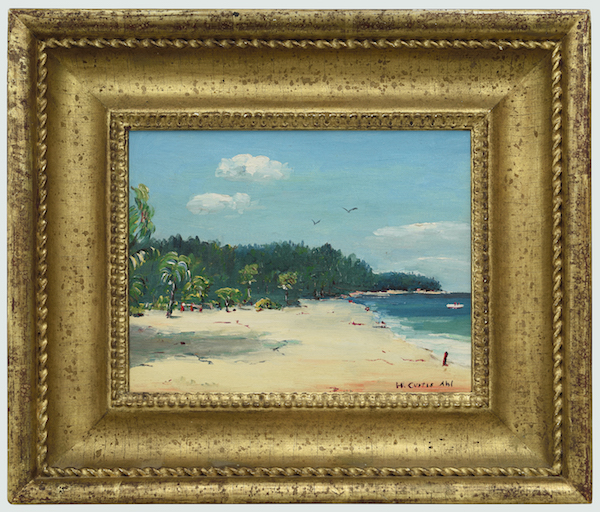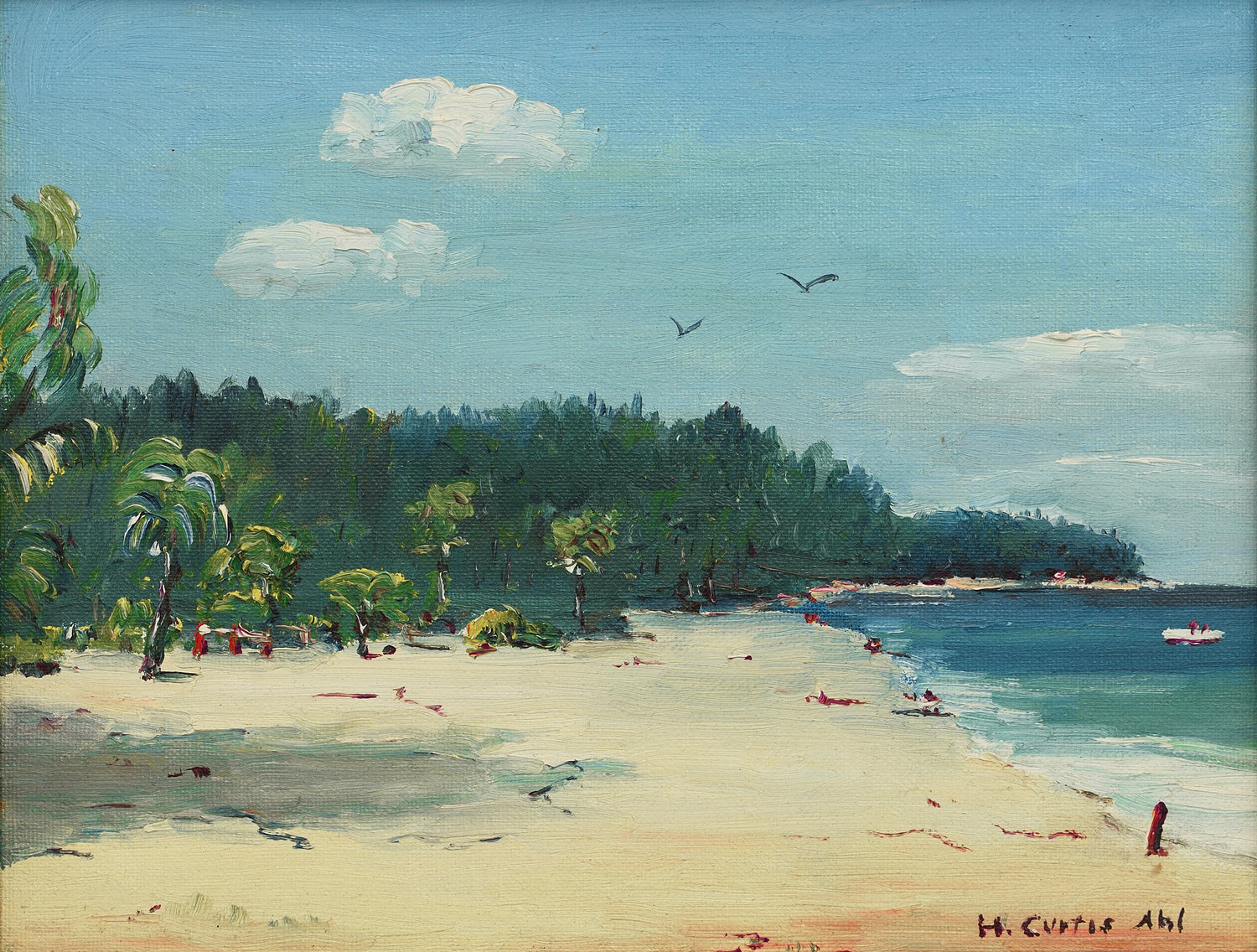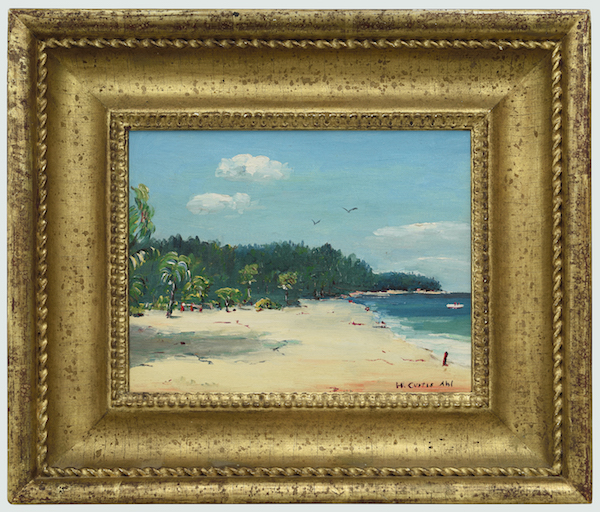 Bahamas Beach
Henry Curtis Ahl
American, 1905-1996
Signed lower right: H. Curtis Ahl
Oil on board
Sight Size: 8 x 10 in. (20.3 x 25.4 cm.)
Framed: 13.75 x 16 in. (35.93 x 40.64 cm.)
Undated
HENRY CURTIS AHL (1905-1996) was the second-generation representative of a well-respected family of Massachusetts painters whose close-knit, mutually supportive artistry extended across a diverse range of media and styles. Primarily known for his landscapes and seascapes, Henry Curtis Ahl was also the author and illustrator of several booklets on natural history subjects and literary shrines, including A Visit to the House of the Seven Gables.
Besides Henry Curtis, the Ahl family of artists included Henry Curtis' father, Henry Hammond Ahl (1869-1953), and mother, Eleanor Curtis Ahl (1875-1953). Historically speaking, Henry Hammond Ahl was the most prominent painter in the family, studying in the Tonalist tradition at the Royal Academy of Munich (where he won a prize) and the Ecole des Beaux Arts in Paris with Jean-Leon Gerome. Returning to America, he opened studios in Washington, D.C. and New York City, developing a prestigious (and financially-remunerative) reputation as a portraitist of important politicians and members of high society. Additionally, he painted canvases and murals featuring religious themes, as well as decorating numerous churches in Boston and Providence, Rhode Island. His painting, In The Shadow of the Cross, drew crowds to its "mysteriously appearing" cross when it went on tour in 1899 and was exhibited at the St. Louis Fair of 1904. Later, following a fall from a scaffold, he turned his focus to impressionist landscapes of the New England countryside, many of which were reproduced in calendars and on greeting cards. His wife (and Henry Curtis Ahl's mother) was the poet and painter Eleanor Curtis Ahl, who earned recognition for her accomplished watercolor landscapes and floral still-lifes. An art teacher preceding her marriage, she is credited with providing the central tenets of her son's education in art. Her works have been exhibited at Massachusetts' North Shore Arts Association (one of the oldest and most distinguished art associations in the United States, founded in 1922), located in Gloucester, and the Cushing House Museum, a National Historic Landmark further up the coast in Newburyport.
Henry Curtis Ahl was born in Springfield, Massachusetts, in 1905, and spent the first half of his life in the North Shore village of Byfield (in the town of Newbury, roughly 30 miles northeast of Boston), where he lived and worked with his parents in a large 17th century farmhouse near the Parker River, with young Henry encouraged by his parents from an early age to take up the arts, which he did, devoting much of his childhood and adolescence to painting the local woodlands and marshes. His formal schooling initially took place at nearby Governor Dummer Academy (the oldest continuously operating boarding school in the United States, established in 1763), and then at Harvard College, with the latter institution conferring on him an A.B. degree in 1928. Historical sources suggest that Ahl was a highly reclusive individual, though he maintained a close friendship with fellow artist and North Shore denizen John Kodwyck. Following the deaths of his parents in 1953, Ahl moved into a cabin in Newburyport, eventually embarking on an extensive itinerary of traveling and painting, with a particular affinity for California, the Southwest, Florida, and his native New England. Additionally, many other domestic locales served as backdrops for his artistic sojourns, with visits to the Bahamas and the Canadian province of New Brunswick as well. Wherever he went, he painted, recording an en plein air oeuvre marked by an impressionist-like realism, notable for representing the sky, clouds, and other pictorial elements in a highly naturalistic fashion, replete with seagulls often suspended in mid-air. Unlike his father, Henry Curtis Ahl showed little interest in religious paintings or portraiture (human figures are absent from nearly all his work), preferring instead landscapes and seascapes conceived in a lighter palette. His versatility with a brush is reflected in his richly-hued scenes of wildflowers and fall foliage, along with his renderings of verdant, river and lake-filled valleys yielding mountain ranges in the background, and coastal scenes depicting either rocky outcroppings and crashing, foam-topped waves or restful, sunswept beaches and sand dunes.
In her review of the 2002 exhibition "Legacy: The Artistic Families of the North Shore Arts Association," Kathleen Valentine, writing in the American Art Review, said of the Ahl family: "Like the Beals and the Wyeths they each maintained a distinctive personality apparent in the paintings chosen for this exhibit. Henry Hammond's An Ancient Oak displays the powerful imagery and strength that were characteristic of his landscapes and murals. Eleanor's watercolor, A New England Winter, shows her fine attention to detail and subtle coloration. Henry Curtis' Wetland Scene is typical of his light, luminous touch . . . (he) lived most of his life in the seaside town of Newburyport where he was highly regarded for his sunlit seascapes. . . . As interest in American art grows it is hoped that this family will gain the recognition they deserve."
During his lifetime Henry Curtis Ahl was a member of the North Shore Arts Association and the Gloucester Society of Artists, and held solo exhibitions at the Boston City Club, the Twentieth Century Club (Boston), and the Hotel Somerset (Boston). His work was also displayed in exhibitions at the Art Institute of Chicago, the Springfield (Massachusetts) Art Association, the Portland (Maine) Museum of Art, the Gloucester Art Association, the Connecticut Academy of Fine Arts, the New Haven Paint and Clay Club, and the Springfield (Utah) Art Association; a posthumous exhibition was held in his honor in 1997 at the Cushing House Museum, where his mother had once exhibited. Examples of his work have merited permanent representation in the Georgia Museum of Art (University of Georgia), the Farnsworth Museum (Rockland, Maine), the Sweat Memorial Galleries (Portland Museum of Art), the Bowdoin College Museum of Art (Maine), the Springfield (Utah) Art Association, the John H. Vanderpoel Art Association (Chicago), the Hickory Museum of Art (North Carolina), the Hood Museum of Art (Dartmouth College), and many other private and public collections.
Henry Curtis Ahl died in Seabrook, New Hampshire, on September 6, 1996, at the age of 90. Whether it be densely packed trees sinking into a South Carolinian marsh, palm-trees swaying gently on a Bahamian beach, or a mauve-tinged sunrise above California mountaintops, the sense of wonder with which he imbued his subject-matter remains a hallmark of his work, viscerally impacting viewers who are drawn to the natural world.
Written October 2016 by Brian Flon, author of "Hell's Kitchen Requiem" (2014), available as an e-book at Amazon, ITunes, and Barnes & Noble.
©The Lusher Gallery LLC 2016. All rights reserved. No portion of the material described herein may be reproduced in whole or in part without the prior written consent of The Lusher Gallery LLC.