Croton, Bermuda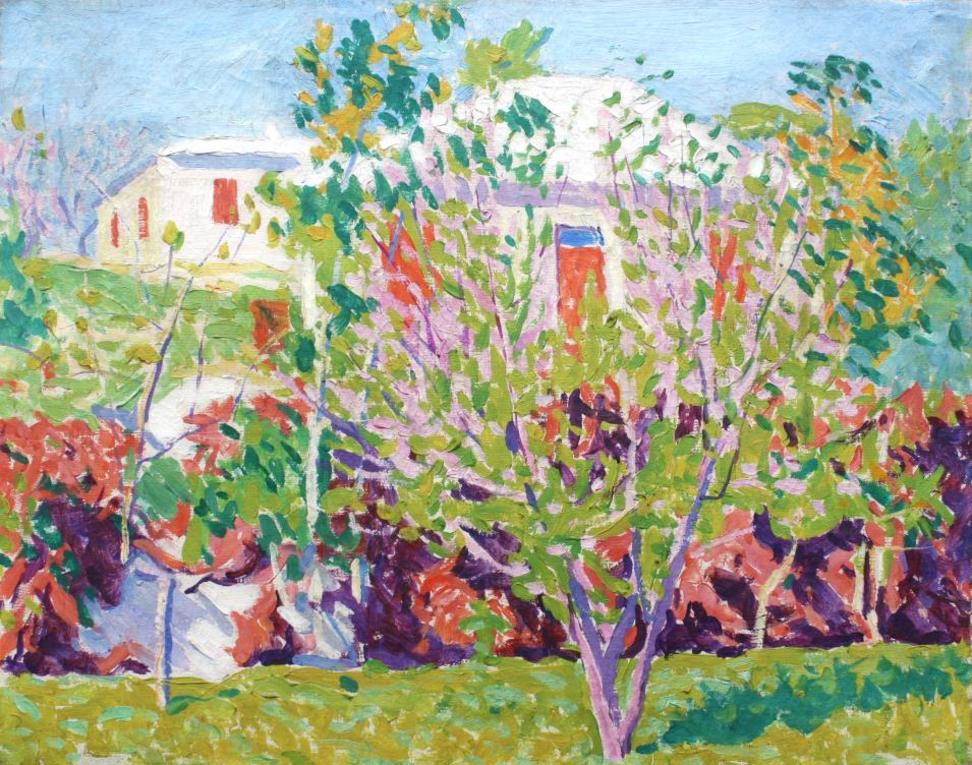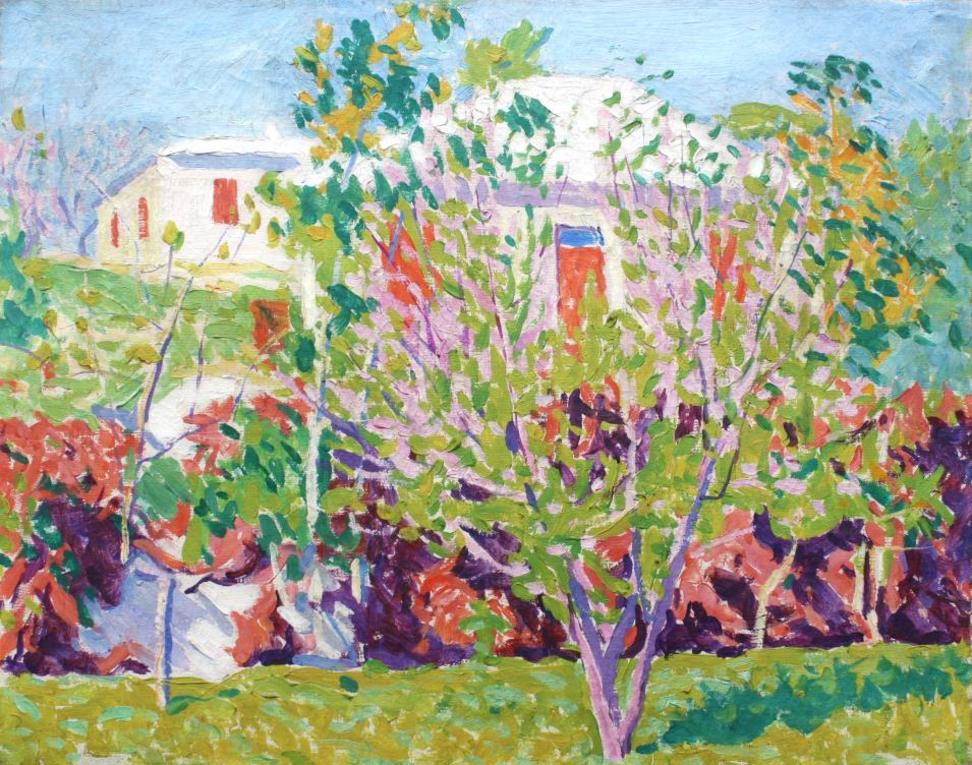 Croton, Bermuda
E. Ambrose Webster
American, 1869-1935
Unsigned but illustrated in Gail Scott's catalog on the artist
Oil on canvas
Sight size: 16 x 20 in. (40.64 x 50.8 cm.)
Executed in 1916
Provenance: The Collection of Kenneth Stubbs
EDITOR'S NOTE: The Lusher Gallery wishes to extend its deepest and most sincere appreciation for the exemplary scholarship of Gail R. Scott, whose seminal work, E. Ambrose Webster: Chasing the Sun, served as the primary reference source for the following biography.
EDITOR'S NOTE: The Lusher Gallery wishes to extend its deepest and most sincere appreciation for the exemplary scholarship of Gail R. Scott, whose seminal work, E. Ambrose Webster: Chasing the Sun, served as the primary reference source for the following biography.
E. (Edwin) Ambrose Webster (1869-1935) was a groundbreaking American Modernist painter and teacher whose bold, Fauvist-inspired landscapes helped to usher in a new way of thinking about light, shadows, and, especially, color. He was one of the founders of the art colony at Provincetown, Massachusetts, and his winter sojourns to tropical islands like Jamaica, Bermuda, and the Azores produced many sun-drenched, lushly-hued masterpieces that have only recently been rediscovered following decades in relative obscurity.
Born in Chelsea, Massachusetts on January 31,1869, E. Ambrose Webster was the son of Edwin Webster and Caroline A. Emerson, and his descendants included the famous American statesman Daniel Webster and the American transcendentalist writer Ralph Waldo Emerson. Though only sparse information about Ambrose's youth or early schooling have as yet come to light, certain facts have been established: Ambrose was the middle of three sons, and in the post-Civil War years, Caroline and Edwin (who was a railroad conductor) raised their family in the Chelsea, Malden, and Charlestown suburbs of Boston, the same towns where past generations of both parents' families had lived. Ambrose's paternal grandfather, Beniah Webster (1807-1864), taught design at the Charlestown Navy Yard and was a woodcarver, a craft which Ambrose dabbled in over the years, leading some to speculate that perhaps Ambrose had at least in part inherited his artistic inclinations and abilities from this ancestor.
In 1889, at the age of twenty, Webster went to work as a clerk in Boston, but soon thereafter began his progression toward a career in art: by 1891 an entry in the Boston City Directory lists him as a photoengraver. According to family accounts, one of his tasks was to design newspaper advertisements; several signed architectural renderings in pen and ink of stately buildings in the Boston area have survived from this period, revealing his early talent as a draftsman as well as a good understanding of architecture. (Throughout his career architecture would continue to play an important role as subject matter and as a compositional motif in his painting.) In 1892 Webster enrolled in what was then called the School of Drawing and Painting at the Museum of Art in Boston (now known as the School of the Museum of Fine Arts, Boston, or, more simply, the Museum School), pursuing his course of instruction there through 1895. Other art students known to have matriculated there in 1892 included George Hallowell (1871-1926) and Carl Gordon Cutler (1873-1945; as friends and fellow students in both Boston and Paris, and later as leading New England colorists, Cutler and Webster tread a similar path for many years). Webster's instructors at the Museum School included Edmund Tarbell (1862-1938) and Frank Benson (1862-1951), both of whom were recent faculty appointments, responsible for the Painting Class and the Life Class, respectively. Though the Museum School was already well established as one of the leading art schools of the Northeast, the additions of Benson and Tarbell were considered by the school's directors to be an important coup, with enrollment trends expanding concurrently with their arrival. Both men were known for their American Impressionist paintings and for being members of the group,Ten American Painters, which promoted a unified Impressionist aesthetic during this period. Besides Benson and Tarbell, Webster may have partaken of classes in Artistic Anatomy from Edward W. Emerson (1844-1930), Drawing from the Cast from the highly-regarded Neoimpressionist artist and writer Philip Leslie Hale (1865-1931), Anatomy from George Monks (1853-1933), or Lectures in Practical Instruction in Perspective from Anton Cross (1862-1944). Webster's name does not appear in the School's Annual Reports as a Diploma student, suggesting that he was already sufficiently advanced to take the alternative route of enrolling in selected courses; also, he continued his employment as an engraver during his entire tenure at the Museum School, most likely as a necessary means of self-support.
In their attempt to further enhance the reputation of the Museum School as a respected academy, Benson and Tarbell designed the Advanced Classes to be part of an academic curriculum centered on life drawing and painting. However, these two teachers also understood the importance of originality and individual expression, adding two Composition courses to the curriculum (one for men and one for women) as a means of promoting a degree of individual expression not attainable by simply following traditional theories of instruction such as copying from an antique cast. The 21st Annual Report of the Museum School (1897) affirmed this unique (for its time) approach, stating, "the pupil is encouraged to see his own way and to express himself from his own point of view and not developed in a class where everyone is taught to do the same thing in the same way." This statement is revelatory of the environment within which Webster studied at the Museum School and is crucial to an understanding of his artistic evolution.
After several years at an indigenous art school, the next logical step for American art students during this time period was to study abroad. For a Boston art student in the late 1890s, the school of choice was usually the Academie Julian in Paris, which had a close relationship with the Museum School and counted among its alumni Benson, Tarbell, and Hale, who all encouraged their students to follow this route. According to various sources, Webster was the recipient of a three-year scholarship to study abroad. By 1896 he and his art school compatriot Carl Gordon Cutler had decided to study in Paris. Before departing, however, Webster took his first trip to Provincetown, and was immediately drawn to the atmosphere and light. Recalling his initial impressions of the area in an interview many years later, Webster said, "The lighthouse and point were shining and gold and all behind was a delicate rose. This is a place full of color, I thought, and here I will come back and settle, and I did." That Webster was struck so powerfully at this early stage of his career by the quality of local light and color in Provincetown shows a predilection for plein air landscape painting, a stylistic pathway which no doubt would have been stamped with the imprimatur of both Benson and Tarbell, who, despite their training and instruction in the academic method, were committed to painting life subjects outdoors.
In 1896 Webster and Cutler sailed via steamship from Boston to Liverpool, thereafter making their way to Paris, where they registered at the atelier of two instructors affiliated with the Academie Julian: Benjamin Constant (1845-1920) and Jean-Paul Laurens (1838-1921). Constant was best known for his murals and portraits, with one of his murals, Justinian in Council, now part of the permanent collection of the Metropolitan Museum of Art. Laurens was noted for his paintings of French historical scenes, through which he sought to convey a message of opposition to monarchical and clerical oppression; he is believed to be one of the last exponents of the French Academic Style. Both men were much sought after for their teaching abilities by Americans studying abroad. Though Webster recalled his instructors as "good men," he also added, "they paid no attention to color," thereby indicating, as he did in his remarks about his first sighting of Provincetown, that color was already the focus of his concerns. But while instruction at Julian did indeed focus on the traditional academic curriculum of drawing first from antique casts, and then eventually the live model, it also fostered, like the Museum School, improvisation and artistic freedom. It was most likely this philosophy that Tarbell, Benson, and Hale had carried back to the Museum School in Boston and inculcated in their students. Also, the Academie in particular and Paris in general provided a thriving support network for American students; during Webster's time at Julian there were many other emerging American artists enrolled there, including Clarence F. Underwood (1871-1929), Lewis A. Ramsey (1873-1941), Alphaeus Cole (1876-1988), James Taylor Harwood (1860-1940), Charles Hovey Pepper (1864-1950), and Clark Vorhees (1871-1933). Perhaps the most important aspect of Webster's Parisian experience was the near certitude of his immersion in the art of the European masters who would come to play such an important role in the formation of his stylistic leanings: One can only imagine the response of the young, burgeoning landscape painter as he stood beside the work of the Impressionists and Post-Impressionists at the annual Salon de Independents or any number of important gallery exhibitions in the late 1890s. Ambrose Vollard, the cutting-edge young dealer, had begun showing work by Vincent van Gogh (1853-1890), the Nabis (a group of Post-Impressionist, avant-garde artists, most of whom studied at the Academie Julian), Pierre Auguste Renoir (1841-1919), Paul Cezanne (1839-1906), and others at his gallery on Rue Lafitte. During this time period Webster would also have seen work by Edgar Degas (1834-1917), Alfred Sisley (1839-1899), and Camille Pissarro (1830-1903) at the Durand-Ruell or Bernheim-Jeune Galleries. In 1898 an exhibition of Claude Monet's (1840-1926) cliff paintings titled Sur la falaise, pres Dieppe 1897 was mounted at the George Petit Gallery, a series that could well have served as the inspiration of Webster's later series of sea cliffs in Bermuda and the Azores. It is important to note, however, that Paris was not the first opportunity Webster had to explore the work of the leading French landscape painters. It is highly probable that Webster would have already been aware of the work of Monet and the Impressionists, considering that one of the first Monet exhibitions in America was held in 1891 at the Chase Gallery in Boston, which also included works by Sisley and Pissarro. The Museum of Fine Arts itself sponsored several important shows during the years in which Webster was enrolled at the Museum School, including a major exhibition in 1892 of works by Monet drawn from local collections, and in 1893 an exhibition of the Barbizon School painters. Webster also had the chance to view two Monet exhibitions held at Boston's St. Botolph Club in 1892 and 1893, and possibly a third in 1899 which he might have returned home from Paris in time to see.
During the winter of 1896 Webster met another Massachusetts artist, Dodge Macknight (1860-1950), who would turn out to be a lifelong friend. By that time Macknight had already been abroad in Europe and North Africa for thirteen years, and had spent time with van Gogh in Arles in 1885. Both Macknight and van Gogh were certain that color would dominate the art of the future, with van Gogh musing to his brother Theo in a letter, "The painter of the future will be a colorist such as has never yet existed." From the outset of their friendship, their mutual interest in color and bright sunlight united Macknight and Webster as kindred spirits, and it is a fair presumption that Macknight's conversations with van Gogh entered into their discourses. Much later, in the early 1930s, Webster sent a note to Macknight's nephew in which he recalled the moment he and Macknight first met: "One of the greatest moments in painting was almost over, the movement that . . . was Impressionism. We better say, the relationship of light and color." Art historians have posited that Webster and Macknight saw themselves in much the same way as van Gogh saw himself, as part of a new vanguard that arose in response to, but largely outside of, French Impressionism. Taking the premise of Impressionism (the optical effect of color) to its ultimate conclusion, their art, under the influence of direct and intense sunshine, would elevate the expressive effect of color to new and never-before-seen levels.
In July, 1898, Webster and Cutler escaped the stuffy studios and stifling summer heat of Paris by traveling to Holland, meeting up with fellow Boston artist Charles Hovey Pepper and his wife and baby. Their destination was Egmond, aan den Hoef, a small coastal village that, like so many others of a similar ilk located on the peninsula between the North Sea and the Zuider Zee, had become a haven for American plein air painters during the second half of the nineteenth century. Two of the earliest to settle there were American expatriate artists Julius Garibaldi (Gari) Melchers (1860-1932) and George Hitchcock (1850-1913). Melchers, working in an idiosyncratic Impressionist style drawn from French, German and American sources, was already well known in Europe and at home in America as the recipient of numerous salon prizes for his paintings of Dutch peasant life. Hitchcock, for his part, had won high praise for his painting La Culture des Tulipes when it appeared in the 1885 Paris Salon, and thereafter specialized in brightly colored landscapes and garden scenes, often with religious or symbolist overtones. The dappled sunlight and purple shadows cast by the blossoming trees in his Early Spring in Holland (ca. 1887-1905) were light effects that Webster would soon emulate, and Hitchcock's and Melchers' incorporation of heightened color upon their light-filled canvasses clearly influenced the young painter from Massachusetts as he moved ever closer toward his rapidly evolving artistic vision.
Soon after arriving back in America in 1898, Webster, true to his self-avowed promise, settled in Provincetown. By November, 1900, he had purchased a home at 180 Bradford Street near the center of town that would be his permanent residence for the rest of his life. Its location was high on Miller's Hill with an expansive, sunlit view of the bay and a sharply-pointed roof silhouetted against the sky, and depictions of both the house and view would be included in paintings in the years ahead by both Webster and other artists, such as Childe Hassam (1859-1935) and Charles Demuth (1883-1935); later accounts of the home's interior reveal that the third-floor studio had, in addition to Webster's own paintings, colored reproductions of works by artists such as Paul Klee (1879-1940), Pablo Picasso (1881-1973), and Henri Matisse (1869-1954). Also in 1900 Webster established his Summer School of Drawing and Painting, which, (along with its founder) became a vital force in the Provincetown community until Webster's death in 1935. In explaining his reasons for opening the school, Webster recounted during an interview in 1919 that it was "for the same reasons all painters do. I have an analytic mind, and when I know something that I think will help someone else, I like to pass it on. Painting should be taught like mathematics, as a science. You can't teach talent or inspiration but you can teach painting." While searching for examples upon which to base his course of instruction, Webster could have turned to his three primary instructors at the Museum School: Tarbell, Benson, and Hale. All three men retreated each summer to the country with their families, and in the summer of 1894, while Webster was still a student at the Museum School, Tarbell and Benson opened an art school at New Castle, New Hampshire, offering criticisms twice a week for a limited number of students. (It is not known whether or not Webster attended.) For Tarbell and Benson, however, the landscape was secondary to informal portraiture. They were inclined toward domestic subjects with wives, children, and genteel friends situated out of doors in tastefully designed settings of bourgeois leisure. Webster, by contrast, rejected these conventional Boston motifs and chose instead to devote himself almost exclusively to landscape as a means for invoking his pioneering color harmonies. Hale, closer in range to Webster's own stylistic leanings, established a plein air retreat at his sister's home in Matunuck, Rhode Island, where he offered instruction for six dollars a week. At this juncture in time Hale was executing a brand of high-keyed, sun-drenched Impressionism with Symbolist overtones, an approach which went far beyond the mainstream approach of his American colleagues, who excluded him from the group Ten Americans (which, as previously noted, claimed Benson and Tarbell as members) because of his more radical stylistic experimentation. Hale and Macknight were also acquainted, placing Webster in the company of two of New England's most forward-leaning colorists.
As a teacher, Webster was known never to behave like an autocrat talking down to his students, but more like an interested co-worker who has something of value to impart to others. He never demanded homage of any sort, and his critiques were mild. He "never mashed you down," as one student put it, and his criticisms were more often by way of constructive suggestions. As an artist Webster was committed to innovation, to progressive principles and values, and his teaching followed suit, embracing the European and American forerunners of Modernism while at the same time maintaining a reverence for the timeless art of the Old Masters. His school curriculum included not just the outdoor and studio painting sessions and life drawing instruction, but also Saturday lectures in the history of art that ranged from such favorite topics as the Sienese painters Duccio (1250-1319) and Cimabue (ca.1240-1302) to Moderns like Cezanne, Matisse, and Georges Seurat (1859-1891). He used photographs, reproductions, and lantern slides to illustrate the lessons, and always instilled in his students the importance of craftsmanship and good work habits, such as the thorough cleaning of brushes. "Crisp, clear precision was his watchword," one observer noted. "He never allowed sloppiness to enter a canvas. Nowhere can dirty color be found in one of paintings. Each shape and note was set down with final decision and was hardly ever repainted." Webster could usually be spotted around the beaches and streets of Provincetown, energetically demonstrating his painting methods for his students. One witness gave a vivid description of such a scene: "He stood up in front of the easel and canvas and gave me the impression of a man fencing. He would crouch and parry and thrust at the canvas with all of the nervous and physical intensity of a fencer. . . . It is a big man's job to paint as Webster paints, and perhaps that is one reason why so many women like his style." (His school attracted many woman, especially schoolteachers.) Webster solicited students for his school through published brochures and paid advertisements in prominent art journals such as International Studio, Arts and Decoration, and The Arts, always emphasizing (particularly in the early days) color instruction. In early pamphlets for the school, interspersed with picturesque photographs of Portuguese fishermen, hedged cottages, and views of the sea, he extolled the pristine simplicity of Provincetown as an inspirational setting for sketching and picture making, with sunlight that rivaled the tropics. Speaking directly to potential students (much as Philip Hale had done in his own advertisements), Webster told them, "(perhaps) you wish to paint color and sunlight. They are inseparable and Color is as much a fact as drawing and value, and the color sense can be developed." Instruction included three criticisms each week - one in the studio and two outdoors - as well as lectures on color, "including mixture of colored light, mixture of pigments, contrasts, harmony, balance, rhythm." Tuition was fifteen dollars per month (later increasing to twenty-five dollars per month). History records that Webster commanded loyalty, respect, and affection from his students, yet, with his typical modesty, always underestimated the impact he had on the hundreds of students he taught over a thirty-five year period. One contemporary observer noted that, in contrast to other teachers of the time, he did not teach his students "what school they shall paint in. He teaches them to paint."
Webster's counterpart in those early Provincetown days was the artist Charles Hawthorne (1872-1930) who opened his Cape Cod School of Art in 1899, one year before Webster opened his own school. Primarily a painter of figures and portraits, Hawthorne was also considered to be a colorist in his own right, though his palette was considerably more restrained than Webster's, with earth tones and grayed tonalities predominating, leading one critic to observe that, "color seldom seems to be the salient feature of his portraits." Webster, on the other hand, rarely used earth hues. His approach to color derived from the application of small, vigorous strokes of contrasting color that took account of van Gogh, Renoir, and Matisse, all artists he is known to have admired. The work of Webster and Hawthorne appeared together in numerous group exhibitions and, in 1918, in a dual show at the St. Botolph Club in Boston. The critic Helen Henderson, in reviewing the show, noted that each man was a perfect foil for the other. The sub-headings of her article point sharply to the differences between them: "Webster's Work Vital" vs. "Touched by Romance" for Hawthorne. She observed that, "because of his advanced theories on color, Webster has been little understood in official circles. His art is of a rare and unusual quality." Being "both intellectual and emotional," his work "makes for a fine balance." One artist who experienced the instructional techniques of both Hawthorne and Webster was Houghton Cranford Smith (1887-1983), whose primary interest lay not in portraiture, which was Hawthorne's main province, but in landscape. Recollecting his experience with Webster in his book The Provincetown I Remember, he wrote that "(Webster) had taken up with what was being done with broken color and the Impressionist school theory. For example, a green tree was a series of specks of the colors of blue and yellow, which in the eye produced green. A shadow on a sunlit yellowish road or sand dune was blue, or an orange road had violet shadows. This was all new stuff in Provincetown; we were not used to such bright colors. My friend Gub (the artist Oscar H. Gieberich,1886-1954) said 'I'd like to know how de hell he sees purple shadows.' But they were purple if you took the trouble to look at them. So I paid Webster for a couple of more months training and he opened my eyes to the marvelous things color can do to objects." Smith further acknowledged that Webster guided him to the work of Paul Signac (1863-1935) as a means of helping him to better understand light and atmosphere, and admitted that he never gleaned an understanding of composition from Hawthorne, who favored rapidly executed, large canvases with a quick eye for values (but no thought to composition), whereas Webster always admonished his pupils that "without a knowledge of composition," the student will never produce a work of art. The impact of Webster's tutelage on Smith, particularly as regards the use of expressive color, is clearly evident in Smith's 1915 painting, Sunlit Cliff, Massachusetts, a work most likely inspired by Webster's paintings of the massive cliffs of the Azores, which were shown at the Brooks Reid Gallery in 1913 and again in 1914.
In December 1911 Webster married Provincetown native Georgianna Rodgers, whose parents had immigrated from Nova Scotia a few years before her birth in 1875. A trained nurse with a profession of her own, she would not consent to marry Webster until he had proven himself as an artist with demonstrated financial stability. This may be why he wasted no time in establishing his Summer School of Drawing and Painting in 1900. By 1910 he had commenced construction of a studio for himself and his school, as well as rooms to be rented to students, thus apparently measuring up to Georgianna's expectations. Their wedding took place in Chelsea, Massachusetts, and later that same day they departed on the steamer Admiral Dewey, bound for Jamaica. They were married at relatively late ages (he was 42 and she 36), and never had children, freeing Georgianna to accompany her husband on their annual winter trips abroad. Over the years she was the subject of numerous portraits by her husband, and the couple is known to have enjoyed buying and collecting antique furniture, china, costumes, and bric-a-brac, both locally and during their travels, filling their Bradford Street home with their purchases.
Webster's color technique evolved quickly during this first decade in Provincetown. In contrast to the conservative, tasteful interpretations of American Impressionism practiced by Benson,Tarbell, Childe Hassam, or Joseph DeCamp (1864-1933), Webster became allied with the group of more independent, expressionist painters, both at home and abroad, like Hale, Hitchcock, and Macknight. Significantly, he cited Matisse as an important early influence who had a profound impact on his understanding of light, shade, and color. Matisse, he claimed, was "one of the greatest Moderns," not only "(because) he makes color live as color," but also because he understood how to handle the contrasts of black and white. Webster followed Matisse's dictum, as reproduced in an article by the German artist Hans Purrmann (found among Webster's personal papers), that "a picture is like a game of cards: you must figure from the very beginning on what you will have at the end; everything must be worked backwards and always be finished before it is begun." By instinct, inclination, and inspiration, Webster had a natural ability to follow Matisse's advice: determine the palette and let the painting emerge from that. Two paintings depicting the view from his Provincetown studio in winter and painted at different points in his career illustrate this ability. The first is Chimneys (Snow, Provincetown), and is dated 1909. The second, View from the Studio, Provincetown, was painted ten years later (ca.1919) and depicts the same scene in an entirely different palette and style, its dominant blue color rendered in a far less saturated hue. Besides Matisse, Webster's early inspiration was drawn from a rich mix of European and native sources, including Edouard Manet (1832-1883), Seurat, Paul Signat (1863-1935), van Gogh, and his friend Macknight. In his classic book about the Provincetown art colony, Art in Narrow Streets, artist and teacher Ross Moffett captured the essence of Webster's art when he stated, "He was greatly concerned with light." Moffett recalled Webster's own words as they stood together in front of his pictures in 1913: "Is there any doubt about it being sunlight!" Webster's passion for sunlight was what had initially drawn him to Provincetown, but the bitterly cold Cape Cod winters were inhospitable to plein air painting, with only the occasional clear winter's day interspersed among the long months of somber skies and grey seas. Thus, from as early a date as 1903 (which perhaps marked his first foray to Jamaica), he spent part of every winter in some sunny, warm location: Jamaica, Bermuda, the Azores, southern France, Spain, and Italy. If, as a landscape artist, Webster's initiation to the power of sunlight and color derived from his first trip to Provincetown in 1896, then his full conversion came about during those early experiences in the tropics. Like the Impressionists and Post-Impressionists before him, Webster discovered that, in the full force of the sun, color comes alive with expressive potential. This progression toward a Fauvist radicalization of the painted surface of a canvas is evidenced in early paintings from 1906 such as Harbor, Montego Bay (in which the usually dark green fronds of the palm trees along the receding curve of the bay give way to chrome yellow under the intense midday sunlight) and Montego Bay Along the Beach. But it was only after being in Bermuda (making annual trips to the island from 1913 to 1916, as well as visiting in 1920 and 1922) that Webster discovered empirically how bright sunlight can affect the perception of color, especially of objects in deep shade. Recounting this revelation later, he told an interviewer that shadows "under the intensified tropical sun were so plainly a brilliant purple that . . . I have so painted them ever since." (Perhaps the first artist to note this phenomenon was Eugene Delacroix (1845-1929), who wrote in his journal, "From my window I see people walking in the sun . . . the shadow of these people is so violet that the ground becomes yellow.") One of the earliest incarnations of this effect is seen in the large Bermuda painting, Palm and Match-Me-If-You-Can (1915), which reveals a rich tapestry of vivid and contrasting hues amidst the tropical vegetation and purple shadows. The problem, however, with painting outdoors in the intense midday sun was that the white, tropical light of the tropics tends to take over and dilute color. Thus, the fact that this blazing sun had the capacity to overwhelm cover became an invitation to treat color symbolically or expressively, instead of cognitively or through local color. For the Modernists, color was less the result of physical observation of light on objects than an invention, a vehicle for expressing emotive impulses or the pure sensuous delight in, and imaginative response to, nature. For example, Webster's use of color in the painting Sketching, Provincetown, Massachusetts (ca. 1914) is not necessarily representative of objects in an observed landscape; rather, he exploits, to use the artist Stuart Davis' (1892-1964) distinctly Modernist terminology, "high-intensity color intervals" for their potential to invigorate the compositional design and enliven the subject. (The blue shadow cast by the female painter in this picture extends out from the toe of her foot and the foot of the easel, creating a rhythmic mirror of her form. These foreground shadows, in turn, mimic the twisty, irregular shape of the blue-green vegetation on the hillside.) The increasing importance of the effects of shadow in Webster's work is also evidenced in Boats, Provincetown (ca 1916), whose deep, purple shade frames the picture on three sides, reinforced by the dark vertical thrusts of the slender, spottily-leafed trees swaying rhythmically across the sunlit foreground.
A pivotal turning point in Webster's career occurred during a 1906 trip to Jamaica when he entered sixteen paintings in the annual exhibition sponsored by the Institute of Jamaica: one still life, seven harbor and street scenes of Montego Bay, and eight Provincetown subjects brought down expressly for this exhibition. He won two awards in the competition: a certificate in the still life category for a painting titled Fish (since lost) and the silver Musgrave Medal for one of three landscapes he submitted. Paintings featured from this 1906 series include Harbor, Montego Bay and Montego Bay, Along the Beach, both awash in sunlight and dappled shadows, the latter saturated with a deeply-hued blueish-purple that commands the viewer's attention from the very first glimpse.
No less significant than Jamaica to Webster's budding reputation as a master of color, light, and shadow was the island of Bermuda which, as previously noted, Webster initially visited in 1913. Due to its proximity to the East Coast - in those days a relatively short steamship voyage - Bermuda had become increasingly popular to New England and Boston artists. It was also affordable (always a consideration for the Websters, who lived frugally when they traveled), with round-trip steamship voyages costing as little as twenty dollars, and accommodations available in Hamilton and outlying towns for about twelve dollars per week. The island had an efficient system of transportation in place (with carriages, sailboats, and bicycles readily available for hire) and, most importantly, the clear winter skies and abundant sunshine made for ideal painting conditions. The riotous colors of the tropical flora inspired Webster's palette and, in combination with the idiosyncratic local architecture, stimulated intriguing compositional motifs. His painting, Building Blocks, Bermuda, is considered a masterpiece of contrasting color patterns. The wall of massive stone blocks gleams in the bright sun, with the white areas of stones, roofs, and chimneys contrasting boldly with the bright yellow ground-cover and orange accent of the houses. The gradations of blue and purple in the sea and sky echo in the shadow lines that delineate the edges of the rock formations and the cliff on the left. Color notes of all the dominant hues are evidenced in the loosely rendered patches of vegetation, most prominently in the large bush tilting out over the sea at the top of the ridge. Early viewers of Webster's Jamaica and Bermuda paintings were entranced by his spectacular chromatic effects, but no less striking was the innovative compositional motif that would distinguish his work for years to come: the interplay of architecture and vegetation. Lush and rampant, the tropical flora in Bermuda overtakes walls and houses in a jungle-like fashion. Early on, Webster began to explore this contrast of landscape and man-made structures. In Match-Me-if-You-Can (1915), the colorful bush looms over the receding wall, creating green and purple shadows, and the architecture of Ely's Harbor, Somerset (1915) is completely dominated by flora, with the pink and white houses essentially serving as spatial reference points. Perhaps the most striking example of this interplay is Croton, Bermuda (1916), which masterfully brings these elements together along with the bright sunlight and richly expressive hues that had by now become the signature hallmark of his fully mature style. (Both Macknight and Webster were in Bermuda together during the winter of 1915-16, and Macknight's Lantana Grounds, Somerset Parish, Bermuda (ca. 1915) and Webster's Croton, Bermuda share a remarkably similar palette.)
In addition to Bermuda and Jamaica, Webster also found compelling landscape motifs and light effects on the dramatic cliffs and headlands of the Azores. Duringthe late nineteenth century, the "sea cliff motif" had become increasingly popular among French painters, including Delacroix, Diaz de la Pena, and Gustave Courbet (1819-1877). Perhaps most notable (particularly for Webster) were Monet's depictions of the rocky headlands along the Northern French coastline. Following him, Neo-Impressionists such as Theo van Rysselberghe (1862-1926) and Seurat found inspiration in this theme. In addition to the Europeans, artists from New England such as Childe Hassam, Rockwell Kent (1882-1971) and Edward Hopper (1882-1967) explored this territory, executing many canvases of the rugged promontories found on Monhegan Island, Maine and, in Hassam's case, Appledore, Maine. While in Boston, Webster could have seen the collector Desmond Fitzgerald's extensive display of art, which included several of Monet's sea cliff works, as well as examples by Macknight, whose high-keyed Down by the Cape was prominently displayed by Fitzgerald. While many of Webster's Bermuda and Jamaica paintings feature his trademark Fauvist color schemes, this effect is shared with the rich diversity of landscape components: houses, walls, and plant forms. The Azores pictures, by comparison, are reductionist and simple. Each canvas primarily consists of two elements: richly-hued landmasses and a pounding sea, the water composed with thick strokes of impasto, lending weight and volume so that the sea competes with the rocks and land masses in an effect reminiscent of Monet. Increasingly, scale became one of the defining factors of Webster's work; he was one of the first Modernists to work frequently on thirty by forty inch canvases, a large and challenging format that, in the right hands, can induce powerful images in the mind's-eye of the viewer, irrespective of the painting's simplicity of design or the minimalist nature of its formal elements. More so than any of his works before or after, Webster's 1913 Azores paintings reinvent color, making it depend on a highly subjective palette of sharply contrasting values and complementary colors. In Rocks and Cliffs, Azores (1913), nearby rocks rendered in a deep magenta and the cerise of the distant cliff are separated by a wide swath of a lighter-hued blue-lavender water. In Cliffs and Seas, Azores (1913), space is expansive, defined only by the distant headlands and a broad horizon line. Rock in the Sea (1913), by contrast, with its pink cliff and magenta shadows and nearby puce and pink-hued rock jutting out of the sea, the vantage point is reigned in, pulling the landscape elements toward the viewer and eliminating any suggestion of a horizon. In what art historians consider to be a daring departure from his predecessors, Webster forces form and composition to serve color. Though the cliff motif might have been derived from Monet, the palette is singularly Webster's, and as one later critic for New Yorker magazine was led to observe, it included "not reds and blues but... cerise, magenta, and puce." Similar values of orange, blue, and pink constitute cliff, water, and rock, and the effect, visceral in its impact, has been suggested by some to be the precursor to the work of such Abstract Expressionists as Willem de Kooning (1904-1997), Philip Guston (1913-1980), and later, Richard Diebenkorn (1922-1993).
Always analytical by nature, Webster developed his own technique and theory of colors, which, as a teacher, he used in his classes and lectures. He compiled and published his findings in the form of a booklet, Color, Drawing, Painting, which he advertised and sold for fifty cents to his students and other artists. As an artist committed to plein air painting, Webster opens his book by stating that light and color must be considered together. "We live in a world of color," he wrote, and "a world without color would be a world without light, because color and light are inseparable." He further asserted that "the eye sees what the brain knows to be true," and "there is nothing haphazard about color, and when its laws are understood the painter can go to his work in a direct way, without fumbling." Upon contemporary reflection, the certitude with which Webster espoused his theories on color is indicative of a mature artist who was not dependent on hesitant experimentation nor the learn-by-emulation studies of his predecessors, as is witnessed in the development of other American Modernists. His quiet conviction about his art and basic principles is evident in several interviews, such as one with the art critic of the Boston Post who interviewed him in 1918 about his "startling" paintings. "The public has had their fill of somber stuff," Webster explained, adding that it was his belief that the use of vibrant color in modern art was there to stay. "Did you ever see or hear of anyone who didn't like a brilliant sunset or the brilliancy of flowers?" Yet a solitary struggle, waged in an environment where more conventional forces held sway, could be an arduous path to tread. Recalling in later years his early stance in Provincetown as a radical, he commented, "At first there were no Modernists here but myself. . . . I had to fight all alone, and sometimes it was pretty hard."
Beginning as early as 1903 and continuing throughout his career, Webster participated in many of America's annual exhibitions: at the Art Institute of Chicago, the National Academy of Design, Carnegie International, the Corcoran Gallery of Art, and the Pennsylvania Academy of the Fine Arts, as well as locally at the Boston Art Club. Using his early work in Bermuda and Jamaica as a stepping-stone, he vaulted onto the Boston gallery scene, gaining broad public exposure and critical acclaim for his chromatic inventiveness. His first important American exhibition was at the Brooks Reid Gallery in Boston in 1913, a small group showing which included four artists: his friends and art school colleagues Carl Gordon Cutler and Charles Hovey Pepper, as well as Maurice Prendergast (1858-1924). Philadelphia Inquirer critic Helen Henderson said that the gallery was a "godsend to students . . . furnishing the only means of seeing what is vital in the work of their day," as opposed to "the smug satisfaction with which that city contents itself with the Boston School of Painting." Webster's contributions included several Jamaica scenes depicting native huts; In Old Hut, Jamaica (1912), color vibrates between pure viridian green and chrome yellow in the vegetation, bright lemon yellow highlights, and deep purple shadows. His canvases caught the attention of two critics: The reviewer for the Boston Evening Transcript called him "a luminarist of the highest order," and the critic for the Boston Sunday Herald commented, "Jamaica sunlight, as interpreted by Mr. Webster, is the most exciting feature of this four-man show," adding that, toward his pictures, "(the eye) reverts constantly." Two of Webster's paintings from this exhibition, the aforementioned Old Hut, Jamaica and the now lost Sunlight, Jamaica (1912) were included in the famous 1913 International Exhibition of Modern Art at the 69th Regiment Armory in New York (the Armory Show). Prendergast, a member of the Armory Show's Domestic Committee, was part of the group that issued invitations to American artists for contributions to the exhibition and also helped to hang the show, and it has been suggested that, given their joint appearance at the Brooks Reid Gallery just one month prior to the opening of the groundbreaking Armory Show, Webster, Cutler, and Pepper were invited to participate at Predergast's behest. These four men exhibited together twice more: In December, 1913, at the Gage Gallery in Cleveland, and a second show at the Brooks Reid Gallery in January, 1914. Both exhibitions featured Webster's paintings from the Azores, as well as flower and garden motifs from Provincetown. The critic for American Art News praised the Azores paintings with the now famous quote that Webster was as "bold as an automobilist in the way he blazes his way with yellow light," and referred to him as "a vigorous new trailblazer." In addition to his bold use of color, Webster's energized brushstrokes drew astonished attention, the quick, slashing brushwork similar in style to van Gogh, whose work Webster undoubtedly saw in his student days in Paris and at the Armory Show. Webster used this Post-Impressionist handling of paint to remarkable effect in his garden paintings (such as the riotously colored, purple-shadowed Summer Garden from 1913) and landscapes from the Azores.
During the late fall and winter of 1913-1914, Webster turned his attention to the landscape of New England. His location of choice was Tamworth, New Hampshire, and he executed a series of paintings throughout the changing seasons in this vicinity, as well as elsewhere in view of Mount Chocurua and Mount Monadnock, an example being New Hampshire, Fall, Mount Monadnock (1913), featuring a cluster of blazing vegetation in the foreground. In First Snow, New Hampshire (1914), Webster undertakes a new theme which would become an important component of his rising reputation: snowscapes of Massachusetts and New Hampshire. Snow scenes, first made popular by the Barbizon and Impressionist painters, were by 1900 also a set tradition in America. They were a natural counterpoint for landscape painters intrigued by atmospheric and light effects; a winter alternative to journeys to the tropics. Among the New England exponents of this tradition were Abbott Thayer (1841-1921), John Twachtman (1853-1902), Willard Metcalf (1858-1925), Rockwell Kent, Marsden Hartley (1877-1942), and Dodge Macknight, whose watercolor Snow was lent by Webster to the first exhibition of the newly-formed Provincetown Art Association in 1915, where it was hung next to a snow scene of his own. With these precedents (especially that of Macknight), the effects of light and color on a snow-covered winter landscape seems an appropriate motif for Webster to have undertaken as a shift from his tropical subjects. Paintings from 1914 such as Tamworth, New Hampshire; New Hampshire; and New Hampshire Winter feature vivid cobalt-blue shadows trailing from dark evergreen trees heavily laden with yellow-tinged snow, the backgrounds filled with a lacework of cranberry-soaked osier bushes. Critical comparisons with Macknight ensued, with one critic noting that "Webster, working in oils, goes further in depth and richness of color," resulting in an "intense vitality." Mary Delahoyd, in her book Personal Places-American Landscapes 1905-1930, linked Webster (by virtue of his mastery of light and color) with the tradition of transcendentalist thought and art as practiced by some of New England's well known painters of that era, such as Kent and Hartley. Though Webster was not known to be overtly metaphysical or religious, she observed, "The nineteenth century New England heritage of a transcendent light embracing all earthbound elements remained vital for Webster who demystified it in a tactile immediacy. Yet he simultaneously established a personal communion through subjective translation into a dazzling spectrum." Additionally, Provincetown painter and art historian Tony Vevers posited that Webster's Tamworth snowscapes approached an abstract quality which prefigured Jackson Pollack's Blue Poles. Thus, with the perspective of time, art historians are only now beginning to recognize the key role which Webster played in bridging the worlds of Impressionism and Abstract Expressionism.
Webster's richly-hued depictions of New England's winters continued to receive accolades in reviews issued contemporaneously with their display. After visiting Webster's studio in Provincetown in September 1915, a critic from the Philadelphia Inquirer noted that he had witnessed "canvas after canvas of these beautiful themes, the process showing no fatigue." Observing that "his knowledge of the juxtaposition of color enables him to key his canvas unbelievably high," the writer compared Webster's vision to that of Macknight's, whose work was well-known to patrons of the arts in Philadelphia. Based upon this article from the main Philadelphia newspaper, three Massachusetts papers, the Boston Evening Transcript, the Springfield Republican, and the Provincetown Advocate reprinted it for their own readership. Aided by the positive press coverage, several of Webster's snow scenes were displayed at the Fifth Corcoran Biennial and at a group show at the Montross Gallery in New York, where it attracted the attention of a critic from the New York Times, who judged Webster's painting, In the Woods, to be "the most vivid landscape on the walls, and the most vivid seen on any walls for many a long year." In 1915, In the Woods, together with another snow scene, On The Trail, were included in the Panama Pacific International Exposition in San Francisco, a year-long world's fair that put San Francisco back on the map following the catastrophic earthquake and fire of 1906. In the Art Pavilion of this seminal event, On the Trail was hung in a prominent position next to George Bellows' (1882-1925) famous work, Excavation At Night, the placement of the two paintings not only the probable cause of stunned, visceral reactions among the viewers trying to process the juxtaposition of Bellows' dark, cavernous work against the sun-bathed brilliance of Webster's snow scene, but was also, by any measure, a distinction of great magnitude for Webster.
On the international scene, the years 1914-1918 was a watershed period, marked by the changes wrought by the First World War. Dorothy Gees Seckler, in her introduction to the catalogue for the exhibition Provincetown Painters, 1890s to 1970s, mounted at the Everson Museum of Art in Syracuse, New York in 1977, remarked on the "abrupt shift in Provincetown: from (Henry David) Thoreau's Spartan simplicity to a bizarre Provincetown that overnight became a surrogate for the Left Bank of Paris. Was there another (art) colony where the problems of the world were being thrashed out on beaches and in studios by people like (the journalist) Jack Reed, by socialist poets and genial anarchists as well as artists? Painters were caught up in the political reverberations of the war and, especially after the Armory Show, by shock waves of aesthetic rebellions launched in Europe. International personalities marched on and off the scene." At age forty-eight, Webster was too old to enlist when America entered the conflict, and so he continued to pursue his usual professional activities of painting, teaching, and taking part in group and solo exhibitions, even traveling to Bermuda which, though under British rule, somehow remained free from German attack. "The Garden" as a favorite painting motif abounded during this period, especially among European and American Impressionists. Two paintings executed by Webster during this time, Provincetown Garden (ca. 1915), and the previously noted Summer Garden (1913), come strikingly alive with nearly the full range of Webster's multi-hued palette. Idyllic summer scenes such as these belied the horrors taking place abroad, while perfectly capturing the tranquil serenity that life on Cape Cod could still offer.
In 1914, Webster and Hawthorne, along with other key local art figures such as Oscar Gieberich, William Halsall (1841-1919), Edwin Dickenson (1891-1978), Frank Desch (1873-1934), Gerrit Beneker (1882-1934), and ten Provincetown businessmen and women founded the Provincetown Art Association (which exists to this day). The charter group elected a local banker, William Henry Young, as president; Webster and Hawthorne were chosen as honorary vice-presidents. All three men served in leadership roles for many years. Membership in the organization consisted of professionals in the arts, and its purpose was to support the art and artists of the community through an annual juried competition in the summer, lectures on art in the winter, and eventually a permanent collection built on works donated by all the founding artists. Provincetown during these war years became a mecca for artists and intellectuals of all types, including Marsden Hartley, Charles Demuth, Stuart Davis (1892-1964), William Zorach (1887-1966), Carl Sprinchorn (1887-1971), and B.J.O. Nordfeldt (1878-1955), as well as leftist radicals such as Jack Reed, Louise Bryant, Mabel Dodge, Mary Heaton Vorse, and Hutchins Hapgood. The playwright Eugene O'Neill staged his first play, Bound East for Cardiff, on a wharf in Provincetown during the summer of 1916. That summer, when this convergence of artists and intellectuals in Provincetown was at its apex, was dubbed "The Great Provincetown Summer" by Hartley. Always on the cutting-edge of the Provincetown art scene, Webster furthered the avant-garde cause there by hosting two significant, yet little-known events during this period in the large studio he used for his classes at the foot of Bangs Street: First, in 1915, he mounted a show of works by various artists that had been rejected by the jury of the Provincetown Art Association for its first annual summer exhibition; this was, in effect, a "salon de refuses," and included work by Demuth, who in 1914 had executed a series of watercolors of the Provincetown sand dunes whose inspiration is believed to be Webster's own work. (Demuth spent the summers of 1914 to 1916 and 1918 in Provincetown.) Additionally, in 1916, Webster hosted the first public display of work by the nascent Provincetown Printers, a group of women who were exploring a new woodblock technique of experimental printmaking that came to be called "white line woodcut." The group consisted of Ethel Mars and Maud Squire, two Midwesterners who had been living in Paris since 1907 and were very much a part of Gertrude Stein's circle, as well as Ada Gilmore, Mildred McMillen, Juliette Nichols, and Nordfeldt. Webster's studio exhibition of woodcut prints by this group caused quite a stir in the Provincetown community and attracted the attention of many other artists eager to learn the new method, including Blanche Lazzell (1878-1956), another leading early Modernist who had made Provincetown her home.
By this period in time, Provincetown had evolved into a national art capital, and Webster, because of his stature and accomplishments, played a major role in helping the art colony achieve its new prominence. He was not only a conduit for the development of important facets of Modernism, but also an influential mentor to a younger generation of artists. His paintings continued to attract critical attention. When Webster's Snow Scene, Tamworth, New Hampshire was shown alongside Macknight's watercolor Snow at the first summer annual of the Provincetown Art Association in 1915, a critic for the Christian Science Monitor deemed the show a refreshing harbinger of new directions in American art. In contrast to the "futurism rampant" in the season's New York galleries or the "well-trodden" academicism of the Boston shows, the writer praised the individuality of the Provincetown artists, in particular Webster, Macknight, Oliver Chaffee (1881-1944), and Tod Lindenmuth (1885-1976), who "all show in one way or another a praiseworthy attempt to assert individual style." In the reviewer's opinion, the efforts of these idiosyncratic artists preordained the "healthy future" of American art. In February of the next year (1916), Boston's Vose Galleries held an exhibition of sixty-eight paintings by members of the Provincetown Art Association. Critic Marian P. Waitt, herself an artist trained at Boston's Museum School, began her review by referring to the "intensely modern" work of Webster, noting that, though she had previously labeled him as an extremist, his paintings were built on a solid foundation. Making specific reference to his Volcanic Cliffs, Azores (1913), she observed that "his brilliancy of color has never been at the expense of the fundamentals of drawing and design." That same year, at the age of forty-seven, Webster held his first solo exhibition, sponsored by the Brooks Reid Gallery in New York. Eleven landscapes were displayed, drawn from the five locations in which he had worked: the Azores, Jamaica, Bermuda, New Hampshire, and Provincetown. Webster's colleague, Charles Hovey Pepper, wrote a brief statement for the brochure which accompanied the exhibition, writing that Webster's paintings "stagger those accustomed to the neutral as one is staggered by stepping from a dark room into the glare of the open day," and that the artist's "brushes slash and cleave like swords," emphatically adding that Webster was "a landscape painter of the first rank." Several critics, having viewed the show, recognized that the key element distinguishing Webster's art was the solid structure undergirding the lively brushwork. A reviewer for the Christian Science Monitor, commenting on Webster's "broken-color" style, noted that "drawing of the subtlest sort is at the bottom of these effects," and even conservative critic Frederick Coburn of the Sunday Boston Herald admitted that the best of Webster's works were "admirable, not simply because they simulate sunlight well (which they surely do), but because they are . . . well-composed and constructed, (and) combine the academic and the adventurous." The paintings Tamarisk, Pride of India, Bermuda (1916), Landing, Ponta Delgada, Azores (1913), and Brook in Winter (1914) drew particular praise from critics, who compared Webster's work with that of John Twachtman (1853-1902), a comparison which Pepper had made. Tamarisk, Pride of India, Bermuda was singled out for the firm compositional grounding (the layered elements of the four tamarisk trees, picket fence, shrubbery, sea, and sky) contrasted with the venturesome color effects (the interlacing of orange and puce branches); Landing Point, Delgada, Azores was seen to forcefully pull the viewer's point of view into the landing by diagonal lines formed by the quay to the left with its purple shadows, and to the right by the angled row of arched columns along the building. The orange and yellow tiled roofs, green trees, and patchwork of multi-hued building facades of the distant town are additional color elements drawing the viewer's gaze into the scene; in the painting, Brook in Winter, which is regarded as one of Webster's finest snow pictures, the composition is again foundational to color: opposing diagonals in the dark brook recede to a point in the middle ground where the viewer's perspective, guided by the snow-covered hill, zigzags gently upward to the left, the white snow contrasting sharply with the orange-brown brook while yellow highlights shimmer amidst the pink and mauve woods. It is this ability to anchor and balance color through solid and intricate compositional structures that would define the direction of Webster's path in the upcoming years. Indeed, despite the fact that most critics had identified him as primarily an intuitive colorist, he had always characterized his approach as analytical in nature. In an interview with the Detroit News in 1919, he said, "I hear some people say, 'forget your technique and just paint.' That is wrong. A painter should never stop thinking when he is painting and has a brush in his hand. When thought stops, his work stands still . . . Moderns always have some idea behind their brush: rhythm, form, color, always something." Though he had long nurtured a personal dialogue between color and structure, the tilt from the 'teens onward (intensifying around 1920) was increasingly on the side of structure, gradually informing his work in new ways and setting in motion a distinct stylistic evolution. The art and theories of three European Cubist painters in particular had a significant influence on the direction of Webster's structural principles at this time: Albert Gleizes (1881-1953), Jean Metzinger (1881-1956), and Gino Severini (1883-1966). In general, American interest in European Modernism had intensified in the wake of the Armory Show, though much of the forward momentum depended on the efforts of a few enlightened collectors like John Quinn, alternative groups like Societe Anonyme, or certain selected art dealers like Alfred Stieglitz and Marius de Zayas, rather than the support of prominent museums. As late as 1920, for example, the Metropolitan Museum of Art could only manage a single exhibition entitled Modern French Painting, which included Cezanne, van Gogh, Matisse, and Picasso (but only up until the Rose Period paintings). Walter Pach, a key player in the selection of European works for the Armory Show, was instrumental in arranging several exhibitions of contemporary European art at New York galleries in the years between 1914 and 1917. The Carroll Galleries displayed work by such renowned Europeans as Picasso, Andre Derain (1880-1954), Raoul Dufy (1877-1953), Marcel Duchamp (1887-1968), Gleizes, Andre de Segonzac,(1884-1974), and Maurice Vlaminck (1876-1958); the Bourgeois Gallery mounted shows by Cezanne, Duchamp, Gleizes, Matisse and Seurat's study for La Grande Jatte; and at the Montross Gallery there were shows of Matisse and Cezanne. After the war, it was the offbeat Societe Anonyme that kept New York's attention focused on the more radical manifestations of European art. In 1920-1921, for instance, the Societe sponsored continuous six-week showings in New York of Cubism, Expressionism, and Dada, exposing Americans to work by Georges Braque (1882-1963), Francis Picabia (1879-1953), Man Ray (1890-1976), Gleizes, Juan Gris (1887-1927), and Eugene Villon (1879-1951), among others. Gleizes, demobilized from the French Army, had come to New York in 1915 with his artist wife, Juliette Roche, to wait out the war. His reputation preceded him, having had two paintings hung at the Armory Show. (One of the two works, Man on a Balcony, is now in the Philadelphia Museum of Art.) Salon-style gatherings were hosted in the apartment of Walter and Louise Arenberg, where Gleizes, Picabia, and Duchamp mingled with American artists and intellectuals. Over the years, Gleizes is known to have made a deep impression on a wide range of artists in the Provincetown circle. By some (unconfirmed) accounts, he is said to have visited Provincetown before he permanently left America in April 1919. Though Georgianna Webster left behind biographical notes on her husband stating that he was "a student of Gleizes in 1918-1919," to date there is no confirmation as to exactly where and when this interaction occurred; it could be that, en route to Charlestown, South Carolina, in February 1918 for a landscape painting session with a group of his students, Webster stopped off in New York to visit Gleizes. It seems likely that Webster read Gleizes' early text on Cubism, written with Jean Metzinger in 1912 (which was available in English the following year), considering the fact that the balancing of color with form in Webster's work coincides with many of the concepts advanced by these two Cubist innovators. In explaining the evolution of modern Art from Impressionism to Cubism, Gleizes and Metzinger proposed that it was the dynamic relationship of color and form that gave rise to the "superior" compositions of the Cubists. In their view, it was impossible to deal with color and form separately, hence, they articulated the view that the duality of color and form was a "law." "Every inflection of form is accompanied by a modification of color," they argued, "and every modification of color gives birth to a form."
The impact of these ideas is apparent as early as Webster's sojourn to Bermuda in the winter of 1914-1915, when he executed a new series of sea cliff and rock paintings. Like other island and coastal regions, such as the Azores, the Mediterranean Cote d'Azur, and certain areas along the Normandy coast, Bermuda features steep cliffs and towering, needle-like outcroppings of volcanic rock. These types of dramatic and seemingly otherworldly geological formations also fascinated Monet, who executed a series of paintings of outcroppings at Port-Coton, France in 1886, including Rochers a Belle Isle. Perhaps the most intense display of these ancient rocks in Bermuda can be found in an inlet called Coop Pond, between Achilles and Tobacco Bay, near the town of St. Georges. It was here that Webster produced this newer series of geological impressions. Compared to his earlier paintings from Bermuda and Jamaica, his flickering, post-Impressionist brushstroke gave way in this grouping to more densely applied color shapes. Paintings dated from the year 1916 (Webster was known to often date his paintings from the year of their initial exhibition, not the year they were actually produced), such as Aeolian Rocks and Rocks, Bermuda, show this stylistic evolution. In Blue Aloe and Cactus II (also dated from 1916), Webster chose compositional motifs in which architectural elements are limited to the background, fronted by lush trees and shrubs. In these works vegetation takes center stage, behind which a mostly obscured wall or house can be viewed. The paintings are rendered in dappled, flat brushstrokes with a primarily pink and purple palette, though in Cactus II, Bermuda the colors are more saturated. In contrast to the vast sense of space in his earlier cliff paintings from the Azores, Webster's 1916 Bermuda paintings are marked by a restricted, tight perspective and flattening of space that emphasizes the picture plane. True to the reality of the island, walls and shrubbery block a full view of what lies behind. In Banana Tree (ca. 1915-1920), the wide-leafed tropical plants and the purple containing wall almost completely dominate the painting, allowing for only a small view of the house squeezed tightly into the upper edge of the picture frame. In Inlet (ca. 1915), a similar compositional framework is employed, with the aqua sea and green hills visible only through a U-shaped opening in the massive, purple rock formation. Webster's increasing preoccupation with constructive techniques during this time could very likely have derived from the theories of Gino Severini, who held a March 1917 exhibition of twenty-five of his paintings, drawings, and pastels at Alfred Stieglitz's 291 Gallery. (The exhibition aroused much excitement and received wide press coverage.) Disregarding his earlier Futurist work, Severini deliberately chose for this show paintings which had been executed only in the previous two years and which signaled the new directions he was taking, including a group of still lifes and portraits in a "Synthetic Cubist" style. The element from these works which distinguished them from Synthetic Cubism of Braque and Picasso was his use of bright color, a factor which would have been of particular relevance to Webster. Severini's newly-found interest in color stemmed from his interactions with Matisse, whom he had met for the first time only a year earlier. The New York Sun published extensive translated excerpts from Severini's preface to the exhibition brochure; in his Preface, Severini explained the aim of his new direction: a resolution of what was, in his view, two opposing tendencies: The Cubists' "Reaction to Impressionism" and the Futurists' "Continuation of Impressionism." The works in his exhibition, he stated, represented his "search for a balance between reason and sensibility. I have wanted also, while obeying the tendency toward composition which I have inherited from the old Italians, to attain a new classicism through the construction of the 'picture.'" Matisse's "ultra-impressionist logic" of color, Severini explained, was a critical way to resolve the dilemma between the reaction to, versus the continuation of, Impressionism. Though it is not certain whether or not Webster viewed the exhibition, various Provincetown historians have reported that the art and theories of Severini (as well as Gleizes) generated lively discussion amongst the resident artists in the colony. Since Webster at this particular moment in time was in the process of transitioning from a preoccupation with the effects of light and color to a more structured, classical technique, it is reasonable to assume that Severini's art and theories would have resonated strongly with him. Evidence of Webster's increasing reliance on more formal compositional structures appears in his New England subjects as well. Both Autumn Hills (1918) and New England Vista (ca. 1914-1918) have strong foreground elements anchoring the pictures; in the color-saturated Autumn Hills, a tree with a dark purple shadow on the left side of the picture plane, counterbalanced by a single branch jutting diagonally from outside the right edge, center the effort. New England Vista is grounded in geometry; most prominently in the horizontal axis of the balustrade, with its diamond and triangle patterned orange railing, stretching from edge to edge in the foreground, but also in the vertical axis of the bare pink-purple trunk on the right and the slightly-angled evergreen tree on the left. This grid is a more subtle example of the "view through the window" motif used by many artists, including Bonnard, Matisse, Derain, and Hartley. The pastoral New England vista opened up to the viewer is that of a zig-zagging river, verdant riverbank, and distant mountains. As structure and pattern played an increasingly important role in Webster's work, color effects also shifted. Waterfront, Gloucester (1919), for instance, balances composition, paint handling, and color relationships in a new way. The tree branch in the foreground partially obscures the buildings of the town across Gloucester Harbor in much the same fashion that the shrubs and bushes in the 1916 Bermuda paintings obscured the view of the buildings beyond. However, design now dominates. The branch, though chromatically strident with its mauve and dark violet branches and yellow leaves, functions now more as a compositional element, behind and through which we glimpse St. Anne's Church and the Gloucester Coal and Oil Company. The vertical pilings in the water to the left contrast with the curved tangle of tree branches. The blue palette pervading sea and sky is complemented not only by the yellow leaves, but by the salmon-colored accents of the buildings in the far distance. In Ice Flow (1919), geometric forms, perhaps a result of the influence of Gleizes and Severini, now dominate. Situated on the lower right edge of the picture frame is a dark blue triangular patch of shadows, with a wider triangle of pale, mottled snow in the center and a purple band in the background. An opposing diagonal of fiery orange branches sweeps across the foreground. This tangled pattern of color contrasts sharply with the more solid blocks of snow and is accentuated by the line of blue shadows angling off to the left. The compositional rhythms blend in harmonic unity with the color rhythms of yellow and yellow-orange set against blue and pale violet. Rhythm for Webster was a key to successful painting, and discussions of rhythm factored prominently in his teaching, as evidenced by his lecture notes, which feature rhythm as one of his nine lessons. "Since a harmonious whole is the ultimate aim of the artist," he told his students, "he must be free to bend the line, create new forms, choose the color or change nature's tone to bring about rhythm and harmony. While nature may be rhythmic as a whole, or rhythmic in her parts, her parts or units are not related to each other." The artist's task, he felt, was to connect the disparate elements of nature "together in such a way that one moves easily from one part of a composition to other parts, thereby creating a oneness." In Ice Flow Webster accomplishes this mission through a harmonic blend of directional lines, color, and patterns that guide the viewer's eye as it travels in and through the scene.
After 1919, when Webster returned to Europe for the first time since his student days in Paris, this transition to a more structured pictorial approach intensified. His pattern during these years was to paint in and around Provincetown and New England from April to early October (with the addition of his teaching responsibilities during the summer months), then depart to paint and hold winter classes abroad, either in Spain, France, or Bermuda. While in Europe, the Websters undertook itineraries that included Paris, Florence, Rome, Naples, Nice, Madrid, Mallorca, and the Maritime Alps in France. In 1919, and again over the winter of 1920-1921, Webster spent time painting in Elche and Alicante, two small towns in the southern Costa Blanca region of Spain. (Webster may have first heard of Alicante from Macknight, who had painted there as early as 1894.) In this region he found a landscape motif that suited his new involvement with solid forms: the densely packed houses and walled towns typically found in the French and Spanish provinces of the Mediterranean coast. It is here that he began to employ architecture as a focal point and organizing principle in his work. Both Picasso and Braque, in the period leading up to Cubism, spent time in these same areas, where houses, factories, walls and bridges became the literal building blocks of Cubist construction. Most striking in Webster's work from these locales is its resemblance to the work of Jean Metzinger (who, in 1912, collaborated with Gleizes on Du Cubisme, the first theoretical treatise establishing a foundation for Cubism), a relationship confirmed by the fact that found among Webster's papers were reproductions of paintings by Metzinger, with notations in Webster's own hands. During the same time, in fact, Metzinger executed a series of paysages of walled towns and buildings, including Les Trois Arbres (ca. 1920-1921). In The Sheltering Palm, Elche (1919), Webster structures the scene around two trees which are set in the right and left edge of the picture frame's foreground, through which we see buildings and a vista beyond. Webster's ever-evolving colorism is evident in the saturated hues and bright highlights, with the deep purple color shapes creating an unusual oblique perspective. The opposing curves of the trees, echoed by the sweep of the path, lead to the little house with a red door and orange roof perched on a hillside above a distant orchard. The Palm, Elche, Spain (1921), features a deeply shadowed single palm tree dominating the picture frame, while behind it, sunlit rectangular fields recede horizontally toward the distant mountains. This painting was singled out by Jacqueline Barnitz in Arts Magazine as signaling a major new direction for Webster, noting that "his design is assertive and his color richer than in previous work." In 1919 and 1920, Webster placed advertisements in the national arts magazines for winter classes in Bermuda. During these seasons he produced many of his more successful works, including Bermuda (1920), in which the vantage point is closer, with an abrupt shift from the shadowed to the sunlit side of the giant boulder in the foreground, and two paintings in which the jungle almost entirely blocks the viewer's entrance into the scene and thus seems to win out over architecture: Bermuda, Tropical Floral (1920) and Outside the Grounds, Bermuda (1919-1920). The opposite is true in Red House, Bermuda (1920), in which a large stately house fills the picture, with color and solid geometry being equal partners.
In 1925 and 1926, Webster's advertisements for his winter classes in Europe included a notice that Albert Gleizes would offer criticisms, though no record exists detailing these sessions. During this time Webster experimented for the first and only time with non-representational painting, producing only a single work, titled simply Non-Objective, dated 1925 but most likely executed in 1918. This canvas used Gleizes' method of overlaid and tilted planes to organize an abstract composition, and in 1925 was chosen to be included in the Exposition Internationale L'Art d' Aujourd'hui (The Paris Exposition) held in Paris and organized by one of Gleizes' students, Victor Poznansky. Webster and Blanche Lazzell were among only six Americans chosen to be included in this show, which has recently been re-examined in the context of a 2003 exhibition titled A Transatlantic Avant-Garde: American Artists in Paris 1918-1939. Sophie Levy notes that, based upon this reassessment, the Paris Exposition is now seen to have been one of the most important international art events of the interwar years in Paris, affirming the fact that Webster, always on the pioneering frontier, was one of the primary seed-carriers for the rich, transnational artistic cross-fertilizations bridging the continents during this period.
For the location of his winter classes of the mid-1920s, Webster chose the Maritime Alps hill towns in southern France: St. Paul for the 1924-1925 and 1925-1926 sessions, and La Gaude in 1926-1927. Southern France had long been a mecca for American artists of all stripes, including Marsden Hartley and Webster's friend and Provincetown colleague Oliver Chaffee. The locales chosen by Webster were picturesque walled towns dating back to the Roman Empire. Reminiscent of many of his Bermuda scenes, part of a walled structure can be seen in the background through a tangle of plant life in Cactus, St. Paul, France (ca. 1925), a coloristically complex effort replete with hues of pea green, mustard yellow, pink, magenta, and blue. In both Below the Hill, St. Paul, France (1925) and St. Paul (1925), the densely-packed buildings, so characteristic of this region, are rendered in a pale purple and set against the diffused sunlit sky, with houses, orchards, and vineyards hugging the steep terraces. In compositions like St. Paul ll, France (1925), structural form takes over entirely, with the boxy and angled houses piled one on top of another and the curved walls and round, manicured trees serving as the geometric idealization for his developing aesthetic; in these 1925 St. Paul paintings, with their patterns of circles and semi-circles embracing the angular buildings in the center of the picture frame, and then repeating themselves into the distance, the influence of Metzinger's work is evident. Similar landscape motifs and a variety of town vistas were available to Webster in the hillside town of La Gaude, where he produced work that is similar in style to the pre-Renaissance perspectives of Giotto (ca.1267-1337), especially Giotto's fresco The Expulsion of the Demons from Arezzo (1295-1300), with its depiction of the packed buildings (piled one on top of another) of a Tuscan hillside town. Historians have articulated the seeming influence of Giotto in Webster's La Gaude l, France (1926) and his La Gaude ll, France (1927). In La Gaude l, France, the dense architecture of the town's dwellings, fronting the pink and yellow rounded hills and the continuous line of the curved, green trees, is sighted through a foreshortened, bird's-eye viewpoint. In La Gaude ll, France, the vertical tower of the parish church, a tall, lone pine tree on the picture's upper left edge, and the three short chimneys in the foreground are set against a pattern of cantilevered and angled rooflines; a staccato rhythm is pervasive. A single, purple-branched tree in the painting's foreground provides the central motif for Hillside Town (1927); by tilting the walled village and its foothill terrain in opposing and vertiginous angles by which a mazelike pattern emerges, Webster conveys the notion that the town and its environs are not easily negotiated. His vivid, expressive, Cubist-inspired depictions of these hill towns are considered by many observers to be object lessons which invigorated his painting and grounded it in a vocabulary influenced by both Renaissance masters and contemporary sources such as Metzinger and Gleizes.
In addition to artistic explorations in France, the decade of the 1920s also saw Webster integrate figurative painting into his artistic oeuvre. Early sketches and portraits of his wife Georgianna showed an inclination and talent in this direction; Portrait of Mrs. Webster (1915) is underscored by the animation of her arms and hands, as well as the bend of her right shoulder, following the bend of the captain's chair upon which she sits. To a certain extent, this portrait draws on the example of the Boston style of portraiture, as well as the styles of his former teachers, Edmund Tarbell and Frank Benson, especially in the treatment of arms and hands to enliven the pose and in the loose, fluid brushstrokes. However, Webster was already differentiating himself from his former mentors with the use of bright patches of highlighted facial coloring. Beginning with his student work in Paris, Webster's interest in the figure is evident from his drawings. However, since most of his drawings are undated, it is difficult to determine if his work with figures evolved more rapidly in the decade of the twenties or whether it had all along been manifest. Whichever it may be, there exist a number of drawings of female nudes that reveal a different side of the artist, with the draftsmanship more sensitive, sensuous, and softer in touch. As early as 1914, Webster took an interest in portraying the indigenous people of the countries to which he traveled. In the brilliant light of southern Europe, especially Spain and Sicily, he executed a series of plein air works that depicted young girls, older women, or mother and child groupings under a blinding sun. Collectively, these paintings are a study in the effect of bright sunlight on a portrait subject. Unlike Hawthorne's romantic portraits of young ladies with their features revealed under the shade of broad-brimmed straw hats, or Benson's sun-filled family outings, Webster instead seems to reveal an awareness of the Spanish painter Joaquin Sorolla y Bastida (1863-1923), whose paintings of beach-goers and country denizens in native costumes, seen outside in the glare of pupil-constricting sunlight, had made him famous throughout both Europe and America. Indeed, Sorolla unfolded a highly successful exhibition in New York at the Hispanic Society of America in 1909 (the show subsequently traveled to Buffalo and Boston), and it is viewed as likely that Webster would have seen this important exhibition, perhaps even meeting Sorolla when the Spaniard visited Boston. Webster's figures, like Sorolla's, are seen squinting under the unrelenting midday sun, a compositional element revealed in such paintings as Sunny Portrait, Taormina (1922), Alicante, Spain (1921), and Sunlight, Alicante (1921), the latter displaying the young girl's dark purple garment billowing in a pattern of curves that are in sharp color contrast to the yellow and orange cubistic forms of the buildings on the hillside. Only Consuela (1919), whose face is protected by a dark veil, and the young girl in Jole Campo, Taomina (1923), who smiles widely underneath her shoulder-length tangle of auburn hair, are not subjected to the harsh glare of the sun. Perhaps at the suggestion of Dodge Macknight, who was familiar with North Africa from earlier painting forays, the Websters traveled to Tunisia in 1923. Only one painting has, to date, been identified from this trip:The Souk, Tunis (1923), a depiction of the marketplace in Tunis. In this painting, two Arab men are seen sitting at angles to one another in front of the plaza archway, which serves as compositional framework for the bustling market scene; the play of strong light and dark shadow across the covered heads of the figures is the scene's focal point. A palpable stillness is pervasive in the grip of the intense desert heat. Harley Perkins of the Boston Evening Transcript noted in a review of this picture that Webster was "keying his canvas as high as possible and finding brilliant passages of color in the rendering of shadows," adding that, "His attitude of clear and radiant realism is in contrast to canvases on either side which celebrate the lure of Old World romanticism." The Souk, Tunis is also illustrated in Edna Brush Perkins' book, A Red Carpet on the Sahara, an account of her long and arduous sojourn across the Sahara Desert on camelback with her companion, Charlotte Hannahs Jordan. (In addition to the reproduction of the painting, the book contains a series of pen and ink illustrations by Webster that appear at each chapter heading.) Both Perkins (1880-1950) and Jordan were students of Webster's, and in 1927 Webster executed a portrait of Perkins' son, Roger Griswold Perkins, Jr. Webster continued his figurative work in Bermuda in 1922, taking an interest in islanders of West Indian heritage. Settling the island alongside the British colonizers in a locale with no indigenous population, the West Indians initially came as slaves, legal immigrants, or as ship-jumpers from banana boats that stopped in Bermuda en route to America or Canada. Three works from 1922, all in the collection of the Bermuda Masterworks Foundation, portray family units. In Couple, the man sits on a stone wall, his back to the viewer, while the female, in contrast, squints out at the viewer, her face and neck yellow-tinged in the sunlight, her hair tinted purple in the shadow of the tree; The two women in Sisters sit together fixing their hair in front of yellow, green, and blue-colored foliage; and in Marjorie, Louise, and Joy, the figural group (perhaps a grandmother, mother, and granddaughter) sit in solemn stillness in front of the same multi-colored foliage as in Sisters, but with the addition of a dark banana flower hanging dead center between them. The humble simplicity of these family groupings have appeared to some to infuse these pictures with a sense of sacredness; it has similarly been posited that the intensity of their gazes gives these figures a distinct presence that endows them with an iconic human dignity and elevates the paintings above mere portrait likeness. Comparisons in subject, tone, and style have been made to Paul Gauguin's (1848-1903) portraits of native Tahitians; Webster might very well have viewed Gauguin's work during his student days in Paris when Ambroise Vollard mounted a major Gauguin exhibition at his gallery on rue Lafitte in November 1898, which included the monumental Where Do We Come From? What Are We? Where Are We Going? (1897-1898). In particular, the pose of the male figure in Webster's Couple bares a striking resemblance to the nude figure seated with his back to the viewer with his arm raised and bent in Gauguin's painting. Webster might also have viewed Gauguin's work at the Armory Show, including Tahitian Pastorale (1898), a painting similar in theme to Where Do We Come From? Webster is believed to have shared with Gauguin a deep empathy for native peoples, most often portraying them in direct, frontal poses, close to the picture frame and looking out at the viewer. The familial groupings have been seen to suggest Webster's uncommon respect for the sanctity of human relationships; indeed, Webster never portrayed individuals of African or West Indian descent in servile situations or as incidental to other figures in the context of white culture. Of all the artists who portrayed these people in Bermuda, Webster was alone in depicting them as dignified individuals; his attitude is evidenced by the fact that in several photographs he chose to be pictured with these specific paintings in tow, including one in which Couple is prominently placed on his easel.
Figurative paintings from Webster's time spent in St. Paul and La Gaude also exist: In the spirit of van Gogh's or Cezanne's somber portraits of local people (The Smoker; Woman with Coffee Pot), Webster's paintings Phillipe, La Gaude (1927) and My Friend, St. Paul, France (1921) portray old men from a vantage point high above the town. In Phillipe, La Gaude, Phillipe sits in a bright red chair, gazing out over the village. The tower of the town hall juts up from the center of the cluster of buildings. The figure in My Friend, on the other hand, casts a melancholy view toward the viewer, with the pale blue of his jacket contrasted against his mustard yellow cap and the pale yellow of the distant buildings. In Anemone, La Gaude, France (1927), in which Webster is believed to have achieved a sculptural monumentality, the light-enshrined presence of the young mother issues forth among layer upon layer of arched and rounded forms. Beginning with the rounded petals of the bowl of anemones (and its deep shadow), the circular patterns move upward and outward. They reappear in the rounded heads of the two children and in the drooping shoulders and semi-circular neckline of the mother, additionally echoed in the huge aureole of round palmetto leaves above her head and in the surrounding hills and orchard trees in the background. When this painting was exhibited for the first time in the 1927 annual exhibition of the Provincetown Art Association, it was the centerpiece of the show and the only painting reproduced in a New York Times review. An accompanying commentary in the Times dealt at length on the conflict that been roiling for some time between opposing camps of the Provincetown Art Association: over the years a rift had widened between the exhibition "regulars' (or "conservatives") and the "modernists." In the Provincetown context, the "modernists" (according to Tony Vevers) were the ones who worked from ideas or contexts, while the conservatives culled their subject matter from nature. Minutes of Association meetings show that in 1920, Webster led an effort to change the constitutional by-laws relating to the selection process for the annual exhibition, a process that was originally controlled by the conservative faction. On two different occasions in the early 1920s Webster put forth unsuccessful motions to amend the by-laws, which nevertheless paved the way for the "rebellion" of 1926, when the system was changed and the modernists were afforded the opportunity to select their own jury. In a compromise move the members finally decided to sponsor two separate exhibitions, so that for a decade (1927 to 1937) there was a July show for the modernists and an August show for the conservatives (though the modernists were forced to petition each year for a separate exhibition). Despite the fact that he worked from nature and was primarily a plein air painter, Webster always aligned himself with the modernists, though he often submitted works for both summer shows. James Mellow, the Times reviewer who wrote about this controversy, viewed the modernists as a group of "distinct personalities who stood forth lashing out adventurously, furnishing excitement and achieving some distinction," while, contrarily, he considered the work of the conservatives less advanced. Dismissing Charles Hawthorne's now famous work from 1915, The Crew of the Philomena Manta, as being merely a "success on the surface." Mellow went on to add that, underneath Hawthorne's "clever brush-work . . . there is no real body of fundamental design." In contrast, he described Webster's Anemone, La Gaude, France as portrait of a "rural madonna," composed of large and simple forms painted in high-keyed color but minus the superficial bravura of Hawthorne's technique.
Traveling to Italy during their 1927-1928 trip abroad, the Websters based themselves in Florence for about ten weeks between November 1927 and February 1928, but also visited Venice, Siena, Assisi, Padua, and finally Ravenna, where they viewed the Byzantine mosaics at San Vitale. Webster spent much time contemplating the frescos of Giotto at Padua and of Duccio in Siena, especially their color schemes and compositional structure. Following in the tradition of many other 20th century Modernists, Webster sought out the Old Masters, most notably the pre-Renaissance and Quattrocentro artists, as a way of reinvigorating compositional form in his work. The impetus for Webster's study of the pre-Renaissance artists stemmed in part from his interest in another component of the art and theory of Gleizes and Severini: the principle of Divine Proportion, also known as the Golden Section. Throughout history, artists, architects, designers, and even musicians have sought ideal proportions for buildings, interior and exterior spaces, visual and musical compositions, and natural or human-created objects. The ancient Greeks established the most widely known axiom for ideal proportion, known as the aforementioned Golden Section (though some scholars argue that the ancient Egyptians used this formula while constructing the pyramids, as early as 3,000 B.C.): a line should be divided into two unequal parts, in which the first is to the second as the second is to the whole. Classical art derives largely from this concept of ideal proportion, which found its way through Leonardo da Vinci and others into Renaissance art. Interest in this principle was revived in the nineteenth century when Georges Seurat and Paul Signac used its mathematical ratio in the linear structure of their compositions, the most famous example being Seurat's La Parade (1887-1888). Gleizes, Severini, and other Cubists, as well as a profusion of American artists from the early twentieth century on up to the present, have used the Golden Section as a compositional device. As Ross Moffett recalled in Art in Narrow Streets, many Provincetown artists, intrigued by the techniques of Gleizes and Severini, would diagram reproductions of Gothic and Renaissance masters with ruler, triangle, and divider to uncover the "underlying secrets" of the Golden Section. Among Webster's personal papers are examples of his own such efforts. He purchased black and white photographs of works by Giotto and other Renaissance artists over which he traced angles and arcs to analyze the mathematical placement of figures and action in each composition, most notably a photographic reproduction of Baptism of Jesus by Giotto. As Webster observed, "The Old Masters at their best used geometry to arrive at unity. Ratios were the means of bringing about order and that feeling of satisfaction that comes when parts of the whole have a mathematical relationship to each other." Modern painters, he added, use identical methods. Unlike the productivity of his time in France or Spain, Webster seems to have executed only a few paintings while in Italy, embarking on a series of figurative works that would increasingly occupy his time over the next few years: female nudes overlooking a cityscape or situated in a semi-abstract exterior setting. In Nudes, Florence (1928), the two female nudes are situated along a diagonal wall on a hillside above the city. It has been suggested that Webster's treatment of the female nude in this manner coincides with what Kenneth Clark, in his book, A Study in Ideal Form: The Nude, asserts, that twentieth-century art began in 1907 with Matisse's Blue Nude and Picasso's Demoiselles d' Avignon, when the preconception that artist "should be not more than a sensitive and well-informed camera," began to crumble, with the ancient canon of beauty in the female figure subsequently succumbing to "violent transitions and emphatic simplifications." In the distance of Nudes, Florence, the skyline and receding Tuscan Hills are dominated by the placement of the Duomo and the Palazzo Vecchio, a presumed nod to the Old Masters. As he continued to explore this motif, Webster discovered that it afforded him the opportunity to compose his canvases using newly-found geometric principles, first through his study of the Italian Masters and second using the principles of the Golden Section, which also originated in Classical and Renaissance concepts of composition. Webster's interest in the figure, as well as his increasing reliance on a geometrical approach to composition, is evidenced by his notebook entries from his months in Italy, most of them focused on paintings or frescoes by Renaissance Masters, but also taking account of the work produced by post-Impressionists such as Cezanne and Renoir. (In March 1926 the Websters and other friends visited Renoir's house and studio in Cagnes where, guided by Renoir's sister-in-law, they viewed many of his paintings.) What Webster found in Italy confirmed what he had learned from Gleizes' thesis in Cubism and its Laws: that in the centuries prior to artists employing visual light and shade to modulate figures and thus place them in a narrative scene, they relied almost entirely on line to tell the story. Line, according to Gleizes, was used most effectively by the Byzantine mosaic artists, and continued to be used to great advantage by Duccio, Cimabue, and Giotto, but after Botticelli line as a basis for compositional integrity gave way to color harmonizing. Webster's notebook picks up this theme, declaring that "line is the boundary of form and almost everything depends on harmonizing the boundary lines of the forms that go to make up a picture." In a successful painting, according to Webster's reasoning, line in a painting will continuously flow, so that the eye can travel without effort from any part of the picture following this dominant line. When the dynamic of a painting unfolds in this way, the picture "will have a oneness. Form will grow out of form by this flowing line. This line can be broken but will appear to be continuous. In this way it can leap through space or a solid. It can go out of a picture and return, felt but not seen." Webster's basic organizing principles now took account of mathematical systems like the Golden Section as a means of bringing order to the randomness of nature. "Nature," he expounded, "is not Art. and when we copy Nature we are not creating. No more are we producing harmony. . . . If the lines of a figure in their length, direction, and position cannot be used as they appear, to bring all the parts of his picture into harmony and order, it is the artist's privilege to change these lines . . . in any way he sees fit to create a oneness. . . . Line is pure invention. The artist reduces Nature to line." He compares the creation of a painting using such principles to the problem of laying out a garden. "The paths should lead to centers. You should be able to walk to every part on a continuous path. You should not have blind paths." Accordingly the abstracted figural works of the early 1930s mark a distinct change in Webster's stylistic evolution. Analytical by nature, his work had long been predisposed toward linear structure, though functioning more as a compositional backbone in paintings that are otherwise dominated by spectacularly expressive color effects. From this point onward, however, composition and line assume paramount importance in Webster's figural work and in his teaching. Up to this point Webster's promotions and advertisements for his school had featured learning to use color as the primary asset of his instructional approach. Beginning in 1928 the figure and composition were listed as the prime techniques to be taught, underscoring the fact that his teaching methodology had shifted to coincide with the new direction in his work. Moreover, in his figurative work, along with an emphasis on linear, abstracted composition, came a new working method in the form of extensive preparatory drawings and small studies culminating in one or more finished versions in oil, as in Greenwich Village in Geometry (1929), with its colored pencil drawing and oil study. In this surreal-like work, a nude woman, rendered in a mix of Cubist and soft, natural forms, sits on a checkerboard rectangle surveying below a toylike-scene of red-brick building forms and a green backhoe puffing deco clouds of smoke. Grace Glueck, writing in the New York Times, called it "a wonderful painting." There are distinct parallels between Webster's figure painting during this period and those of Alfred Maurer (1868-1932), and comparisons between Maurer's Nude (1927) and Greenwich Village in Geometry have been made. Both men may very well have been influenced by Sandro Botticelli (1445-1510), whose work both men studied during their respective stays in Italy, and whose technique can be discerned in their female nudes. (Webster mentions Botticelli often in his notes from his two trips to Italy and kept a reproduction of his Birth of Venus.) Though a connection between Webster and Maurer is circumstantial, there were numerous opportunities for Webster to have encountered Maurer in either Paris or New York, or viewed his work in gallery exhibitions. Both men also were among a large number of American artists in the 1920s drawn to the mathematical theories of Jay Hambidge (1867-1924), a Canadian-born illustrator and amateur mathematician who taught at the New York School of Fine and Applied Arts. Hambidge advanced what he called the theory of Dynamic Symmetry, which argued that Cubism was one step in the evolution of modern art but that a truer direction would emerge when artists adopted ancient Greek systems of design and proportion based on precise ratios of the diagonals of a square. He developed this theory as a way of carrying Cubism to what he saw as its logical conclusion: a systematic method of organizing space in works of art. Hambidge believed that his mode of symmetry was dynamic, as opposed to static, because the prominence of a diagonal in the design or composition of a painting creates the illusion of tension or movement. Dynamic Symmetry was said to result from a set of root rectangles of which the Golden Section rectangle was the most important. Hambidge advanced the idea that through mathematics artists could create works of art with the same kind of dynamic beauty seen in nature, the prime example being the simple, rhythmic beauty of a Nautilus, where the shell grows in a spiral according to a logarithmic formula and is "dynamic" precisely because of its asymmetry. Though the mathematical formulae and ratios underlying Dynamic Symmetry and the Golden Section are complex and esoteric, many artists found their applications a useful way to guide compositional structure. Prominent among early American devotees of Dynamic Symmetry were Robert Henri (1865-1929) and George Bellows. Henri taught Hambidge's theories in his school, and avidly encouraged his students to follow them. At that time John Sloan (1871-1951) and Stuart Davis were acolytes as well. (Davis, for instance, admired Seurat's sense of space, and Seurat was known to have organized several of his compositions using the Golden Section.) Bellows, like Maurer and Webster, used Dynamic Symmetry to securely ground his figures, as with the reclining female in Nude with Hexagonal Quilt (1924). With all three artists, geometry came to play a pivotal role, first to situate the nude figures compositionally and then in the accoutrements surrounding the models: the black and white triangles, rectangles, and diamond shapes in the ground of Maurer's Nude; the angular design of the rug in Webster's Navajo Rug (1933); and the colorful hexagons in the quilt of Bellows' Nude with Hexagonal Quilt. Webster's exploration of the theories of Gleizes, Severini, and, to a certain extent, Hambidge, was instigated in an effort to understand Cubism and thus to incorporate new structural principles into his work. In notes sent to Dodge Macknight's nephew, Webster explained that he saw these developments as the logical evolution of modern art after Impressionism and Cubism, calling this new art movement "Measure in Painting." One of several artists who presented lectures in Provincetown on the subject of geometry in painting, Webster nevertheless freely adapted these techniques to suit his own purposes. "The outstanding principle," he said, "is the use of ratios, as found in geometry, which bring about eurythmic relationships between the parts of a picture. Following this principle, the artist must be free to bend the line, change the pattern, or create new forms which may not be found in nature." Intuitively understanding the concept of disequilibrium or asymmetry inherent in the Golden Section or the theory of Dynamic Symmetry, Webster viewed such principles as natural constructive mechanisms for enlivening a composition, especially one that involves the human figure. In addition, he placed high value on rhythm as a key compositional element. The ideas behind Dynamic Symmetryand the rotating planar surfaces promoted by Gleizes were, for Webster, a new approach to a central concern: "to create a oneness," instead of trying merely to be "true to nature." Making ample use of geometric elements like grids, triangles, and arcs in his figurative paintings of the 1930s, he nevertheless did so in a unique way, rather than slavishly following a proscribed set of rules. In Webster House, Provincetown (1931), the architectural motif centers on Webster's distinctive home high atop Miller's Hill in Provincetown; the female nude is situated on a small, stage-like setting comprised of a complex arrangement of diagonal lines and planes, her eyes closed and expression downcast. In these late figural works, Webster's handling of paint shifted dramatically; unlike his early landscapes, which utilized a vigorous, fluid application of paint and an open brushstroke, his work from the thirties employed saturated, low-value but evenly applied paint to delineate the large, pattered shapes constituting the finished canvasses.
During the winter of 1930-1931, while Webster continued to explore this motif of the female nude in a cubistic setting, he and his wife embarked on a painting and lecture tour across the United States. After a lifetime of ritualized winter sojourns to Europe and tropical islands, this turned out to be the last major trip which the couple undertook. Webster's many years spent in part studying art in American and European museums had resulted in a collection of slides and extensive set of notes which he culled together to form a lecture titled, "The Relationship of Modern Art to Conventional Art." An important source for the images he conveyed during the lecture was the exhibition, Painting in Paris, which transpired that same year at the Museum of Modern Art in New York and from which Webster acquired many slides, including, among others, a 1908 still-life by Maurice Vlaminck; Joan Miro's Dog Barking at the Moon (1926); Jean Lurcat's The Enchanted Island (1928); Giorgio de Chirico's Horses (1927); Georges Braque's Still Life (1928); and Leopold Survage's Landscape with a Leaf (1928). In the process of delivering these lectures Webster elucidated upon the paintings and sculptures of thirty-five artists as disparate in time and style as Lorenzo Monaco, Seurat, Giotto, Ingres, Duccio, and Leger. His aim was to demonstrate that modern art was not that different from the traditional forms, and to answer the skeptics whom he felt continuously and erroneously queried, "Why is modern art so ugly and distorted?" After forwarding promotional letters offering to give the lecture at various museum venues, he first delivered it at the Providence Art Club in February 1930 before departing in September of that year, bound for Carmel, California, which by that time was already California's most thriving art colony. The Websters remained there for about three months, which turned out to be an active period of painting for him, with the completion of several major figure paintings and their attendant preliminary studies dating from that time in Carmel. Webster's new method of employing multiple preparatory studies in his figurative work from the 1930s is in stark contrast to his earlier landscape style. The dashing brushstrokes and apparent spontaneity of the earlier scenes from Bermuda, the Azores, or the snow-covered hills of New Hampshire were, however, based upon the artist's natural ability to ground a painting in a strong compositional framework; the difference during this later period was the formal laying out of that framework in advance: the final oil versions of both Webster House, Provincetown and 1931's California (in which a female nude reclines amongst a landscape of cactus, star-shaped flowers, palm trees, and puffy, white dark-shaded clouds) were both preceded by "Pencil on paper" drawings, with one of the drawings for California marked with grid lines (as was often the case in these later paintings) for enlarging the composition onto the finished canvas. While in Carmel, Webster delivered his lecture to the Forum of the Carmel Women's Club and also in San Francisco, beginning the long trip home in January 1931. The return route included lectures in several Southern cities where Webster's students resided, including Houston; New Orleans; Tampa and Jacksonville, Florida; Columbia, South Carolina; and Washington, D.C. Though Webster felt that the lecture tour was a great success, the cross-country trip was the last of his winter travels. Whether declining health or the strain of traveling under the deepening Depression's economic conditions were the reason(s), the fact remains that, with the exception of winter forays to New York City, Webster did not stray far from Provincetown during the final four years of his life. His last advertisement of summer classes appeared in 1932, though he continued to teach until his death in 1935.
However much Webster had drawn down his traveling and teaching routines in the 1930s, his last group of paintings were increasingly ambitious and compositionally complex, and are considered to be major works in the semi-abstract mode. Volunteer Firemen, Provincetown (1932), involved many preliminary studies. In this painting, a female nude reposes serenely on a bluff amidst the strenuous efforts of the volunteer firemen. This motif, comprised of a female nude posed in a landscape (sometimes among clothed men) is Webster's modernist version of an older tradition dating back to Giorgioni in the Renaissance and Courbet in the nineteenth century. Highland Light (1933) celebrates the eponymous lighthouse, which is situated on a dramatic headland overlooking the Atlantic Ocean in North Truro, the next town inland from Provincetown. Erected in 1797, Highland Lighthouse, in addition to being one of the oldest and highest in New England, was for many years the first glimpse of America seen by many immigrants from Europe, especially the Portuguese who populated the Cape. In this painting two female nudes are situated on the highland bluff and are surrounded, in the idiosyncratic manner of these later works, by nautical and lighthouse artifacts, along with a horse that probably grazed on the bluff. This compositional format of a female nude sitting or reclining in a compressed setting of semi-abstract architectural or landscape motifs is typical of nearly all of Webster's figure paintings of the 1930s. The elements in these paintings (e.g. bodies, buildings, trees) are flattened or overlapping in a tightly woven pattern on a planar ground in a style that is reminiscent of the work of the Provincetown Printmakers, whose careers, as previously noted, Webster played such a large role in promoting. In 1934, Webster completed two oil studies titled Searchlights, Provincetown, which were probably the last works he executed before his death in 1935. While not a figure painting, these studies reveal what might have been a new direction for Webster had he lived longer. Employing the oft-used "view through the window" device, Webster achieves in these studies all that he had been working toward in his final years: a richly patterned surface, complete with stylized vegetation, angled planes of architectural forms, and sea and sky, all pressed forward with an intensity and immediacy that envelops the viewer. The dramatic light display of searchlight beams in the distant night sky has been viewed as a metaphor for Webster's own life: always searching for new artistic horizons.
On the night Webster died (January 25, 1935), Edward Hopper had just learned that he had won the Temple Gold Medal from the Pennsylvania Academy of the Fine Arts for his painting Mrs. Scott's House. But his joy was tempered by the news of Webster's death, with Hopper telling his friends that he could "find no flaw" with Webster. "One of the big, rich things of the Cape is gone," he said. "We'll miss him." This kind of admiration and affection for Webster was shared by his friends, colleagues, and students. His greatness stemmed from a lifetime of forging his own path as an artist as well as his enduring commitment to embracing and mentoring others, even if they worked in the more extreme modes of modernist art. "I don't paint as the extremists do," Webster said in 1919, "but I am greatly interested in them, very much interested, and find their work of great value." The impact of Webster's color sensibility and chromatic innovations on many other artists, including Hopper's wife Jo Nivison, Charles Demuth, and Houghton Cranford Smith is just now coming into greater focus, but was, in fact, generally recognized at the time. As William Dooley of the Boston Evening Transcript noted on the occasion of Webster's Memorial Exhibition at the Boston Art Club in 1935, Webster would be remembered for "the profound influence and encouragement which he gave to a younger generation at Provincetown, at a time when few of the worthy elders would support their initiative." Many critics over the years recognized in his work a balance between intellect and emotion and valued the exuberance and vitality of his painting and life. Noting the quality of "sympathy" he extended to everyone, critic Helen Henderson commented, "he gives as from an inexhaustible source, of the extravagant beauty which he sees in the world, a beauty that is part true and part enhanced by his own joyous personality and imaginative force." Perhaps Webster himself put it best when he said, "despite my intense interest in the modern movement, the thing that counts is the thought behind the brush." Working essentially alone, but confident in his own creative instincts, analytical abilities, and the import of his discoveries, he forged a career that never wavered and kept its momentum by way of a self-propelled and indomitable determination. Avidly and joyfully embracing artistic risk, he was literally and metaphorically perched at his era's innovative edge, a pioneer who believed in what he did and what he achieved, no matter the odds against him or the forces of indifference. Ultimately, his work stands out for its chromatic power, strength of design, monumental scale, and symbolic import, shaping and helping to define American Modernism long before other artistic experiments of a similar vein. If it is true that Edwin Ambrose Webster spent virtually the entirety of his career "chasing the sun," then it is also equally true that he deserves a well-earned place in the full radiance of that sun, a place reserved exclusively for modern American Masters.
Written February 2016 by Brian Flon, author of "Hell's Kitchen Requiem" (2014), available as an e-book at Amazon, ITunes, and Barnes & Noble.
©The Lusher Gallery LLC 2016. All rights reserved. No portion of the material described herein may be reproduced in whole or in part without the prior written consent of The Lusher Gallery LLC.