Peel, Sir Robert: Signed letter mentioning Bermuda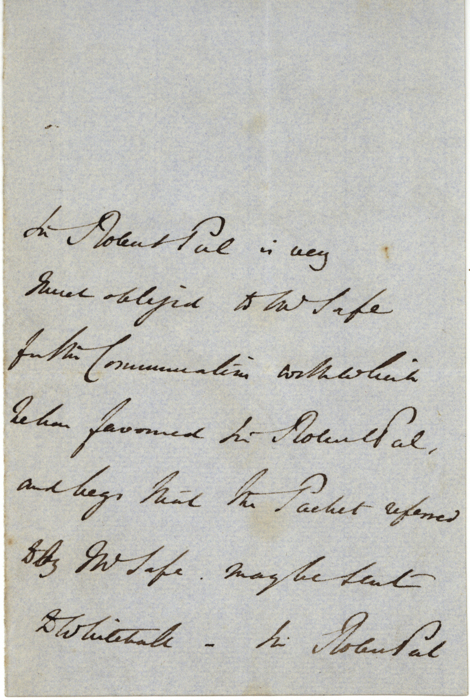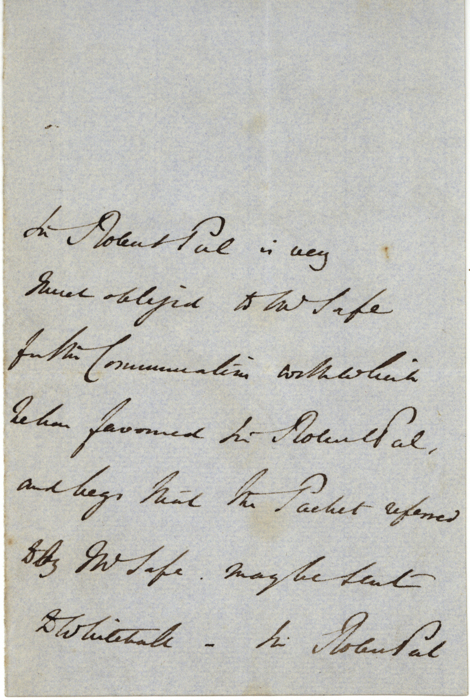 Peel, Sir Robert: Signed letter mentioning Bermuda
Sir Robert Peel (1788–1850)
A third person autograph letter signed mentioning Bermuda
Conservative prime minister of Great Britain 1834–1835 and 1841-1846. As home secretary (1822–1827) Peel created the English police force. Third person autograph letter signed. 2 pages (recto and verso). 8vo. (approximately 4 ½ 7 ¼ inches). Drayton Manor, 28 April, n.y. To Mr. Safe.
Mr. Robert Peel is very much obliged to Mr. Safe for the Communication with which he has favoured Mr. Robert Peel, and begs that the Packet referred to by Mr. Safe may be sent to Whitehall. Sir Robert Peel received a note on the same subject from a Brother of Mr. Triscott of Bermuda…
Accompanied by a clerk-written formal note from Peel to Mr. Prichard, acknowledging a letter. 1 page. 8vo. Whitehall, 17 February 1830. It reads:
Mr. Peel begs leave to acknowledge the receipt of Mr. Prichards communication of the 13th February & to thanks him for it.
As Tory home secretary from 1822 to 1827, Peel made a name for himself by establishing the Metropolitan Police Force. Today, policemen are still known as 'bobbies' or 'peelers' in his name. Among his many reforms to Great Britain's criminal codes was his interest in transporting convicts to Bermuda to help in the construction of the Royal Naval Dockyard. In 1830, Peel inherited Drayton Manor from his father as well as his seat in Parliament representing Tamworth, whence he wrote our letter. Although our letter is undated, it is possible that Peel's request to send the packet to Whitehall rather than Downing Street indicates it was written before he was prime minister.
Mr. Triscott is possibly Samuel Triscott, a foreign service officer in Bermuda from 1831–1850.
Folded and in very good condition.