Aiken, Mary Dodge ("Minnie"): Personal Letter on Hamilton Hotel stationary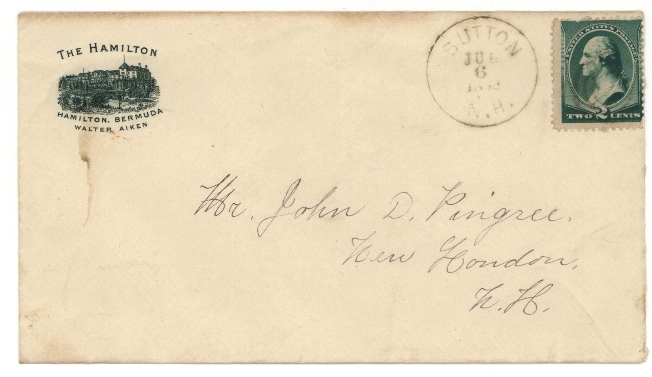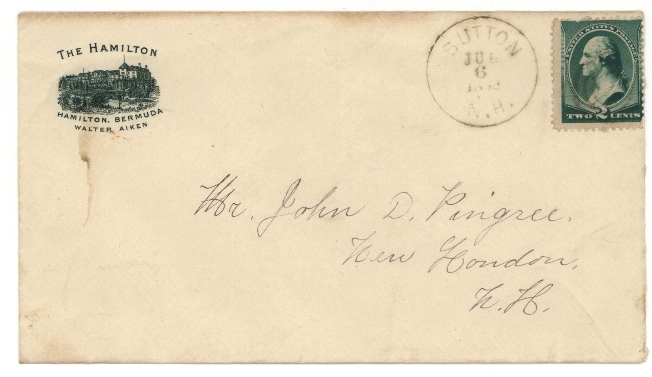 Aiken, Mary Dodge ("Minnie"): Personal Letter on Hamilton Hotel stationary
Personal letter on Hamilton Hotel stationary, 5 June 1888
Measurements: 1 ½ pages, 8vo. (approximately 5 ¾ x 9 ¼ inches)
The Hamilton Hotel: A letter written by "Minnie" on stationery of The Hamilton Hotel, in Hamilton, Bermuda, owned by Walter Aiken. Sutton, New Hampshire, 5 June 1888. To John D. Pingree in New London, New Hampshire. With the original envelope bearing a printed illustration of the hotel in the upper left corner.
Friend John: In accordance with my promise I will send you word when Charlie is going to sing anywhere in this part of the country. I believe that was what I promised. Am I not right? I had a little from him a week ago last Sunday, saying he was going to sing at Filton, N.H. June 20th 1888. Now is your time to hear the wonderful 'Webber Quartette.' I was some in hope it would be so I could go over to Franklin and go from there, but Aunt Harriet is not near as well as usual and I am very much afraid she will not be able to do anything more this summer. She has not set up hardly any for the last three days. She does not eat anything hardly and I don't see how she can live long. I can't leave her as long as she is feeling so poorly. I hope if it is so you can go over and hear Charlie you will go. I am going to write and tell Mary about it and tell her I want her to go. I bet she will shutter (?) just a little inside, if no more. I have done a big ironing today and am some tiard (?), but am feeling quite well. This has been a warm day and I never feel very smart in warm weather. I get so lonesome here I don't hardly know what I do with myself. I hope you will take pity on me and call down as often as you can this summer. I can't get out anywhere I don't feel safe to go away and have aunt now. I must close now and try and write to Mary or she will case me off forever. I am as ever, your friend, Minnie
The first hotel in Hamilton was the Hamilton Hotel, built in 1851 by Walter Aiken (1831-1893), a manufacturing pioneer, who resided in Franklin Falls, New Hampshire during the off season. It helped establish Bermuda as a tourist destination and was open from December 20 through May 10. An advertisement from 1891 described it as 'the largest, finest, most complete hotel of the Bermuda Islands…the only house in Bermuda which gives weekly hops for the entertainment of its guests and their invited friends… Lawn parties, sailing parties, picnics, military displays, band concerts, balls, receptions and theatricals are of frequent occurrence,' (Outing: An Illustrated Monthly Magazine of Sport, Travel and Recreation Vol. XIX October 1891–March 1892). As such it must have contrasted heavily with daily life in New Hampshire as described in our letter.
Outing: An Illustrated Monthly Magazine of Sport, Travel and Recreation Vol. XIX October 1891–March 1892
Aiken had invented one of the first American knitting machines and held scores of patents for other machines, including one which made seamless stockings. He was also instrumental in building and financing the Mt. Washington Railway which, beginning in 1869, brought tourists to the summit of the famous New Hampshire peak, the tallest in the north eastern United States. Our letter is possibly written by Aiken's second wife, Mary Dodge Aiken (1841–1916), as Minnie was a common nickname for Mary.
At the turn of the 20th century, the Hamilton Hotel was updated and expanded. Unfortunately, it burned down in the 1950s. City Hall Car Park is located on the site of the hotel.
The accompanying envelope bears a detailed illustration of the sprawling hotel and grounds. Folded and in fine condition.