Morrison, John William 2nd Viscount Dunrossil: Signed letter to Bermuda Governor Dunrossil about the Duke of Edinburgh Awards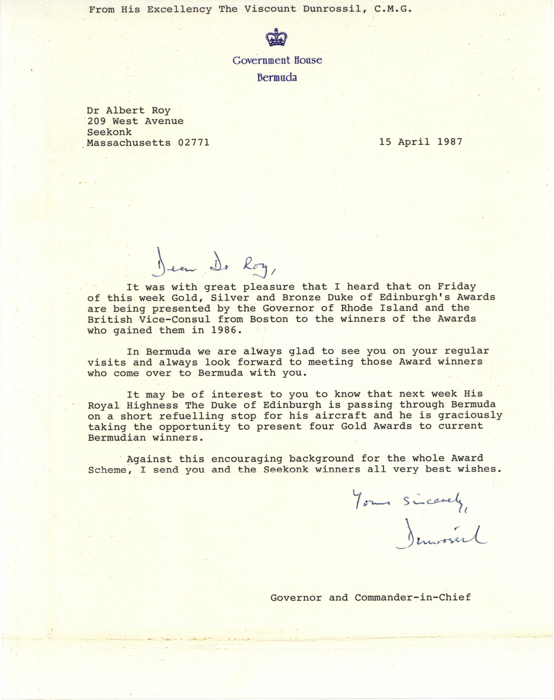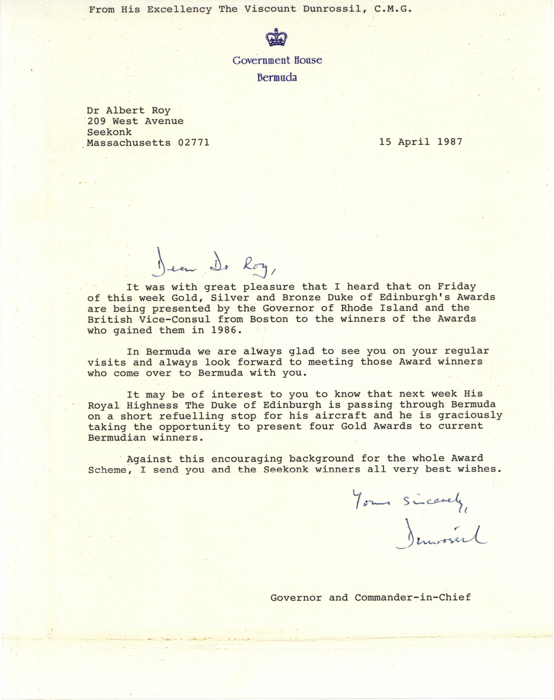 Morrison, John William 2nd Viscount Dunrossil: Signed letter to Bermuda Governor Dunrossil about the Duke of Edinburgh Awards
Morrison, John William 2nd Viscount Dunrossil (1926–2000)
Bermuda Governor Dunrossil about the Duke of Edinburgh Awards
Typed letter signed. ("Dunrossil"). 1 page. 4to. (8 ½ x 11 inches). 15 April 1987. On embossed Government House stationery. To Dr. Albert Roy (1929–1996), a cancer researcher from Seekonk, Massachusetts.
Dear Dr. Roy,

It was with great pleasure that I heard that on Friday of this week Gold, Silver and Bronze Duke of Edinburgh's Awards are being presented by the Governor of Rhode Island and the British Vice-Consul from Boston to the winners of the Awards who gained them in 1986.

In Bermuda we are always glad to see you on your regular visits and always look forward to meeting those Award winners who come over to Bermuda with you.

It may be of interest to you to know that next week His Royal Highness The Duke of Edinburgh is passing through Bermuda in a short refueling stop for his aircraft and he is graciously taking the opportunity to present four Gold Awards to current Bermudian winners.

Against this encouraging background for the whole Award Scheme, I send you and the Seekonk winners all very best wishes.

Yours sincerely, Dunrossil
Dunrossil was a career diplomat who served as high commissioner to Fiji, Nauru and Tuvalu; high commissioner to Barbados; and the 126th governor of Bermuda from 1983 to 1988.
The Duke of Edinburgh Awards were founded in 1956 by Prince Philip, the Duke of Edinburgh(born 1921) to give young people 'a sense of responsibility to themselves and their communities'. To earn the awards, candidates must fulfill requirements in the areas of volunteering, physical fitness, special skills, and expedition. This letter also refers to Rhode Island Governor Edward Daniel DiPrete (born 1934).
Typed along the top edge is "From His Excellency The Viscount Dunrossil, C.M.G. With holographic salutation and closing. Folded and accompanied by the original envelope. In very good condition.