MacMillan, Harold, 1st Earl of Stockton: Signed letter writing about Bermuda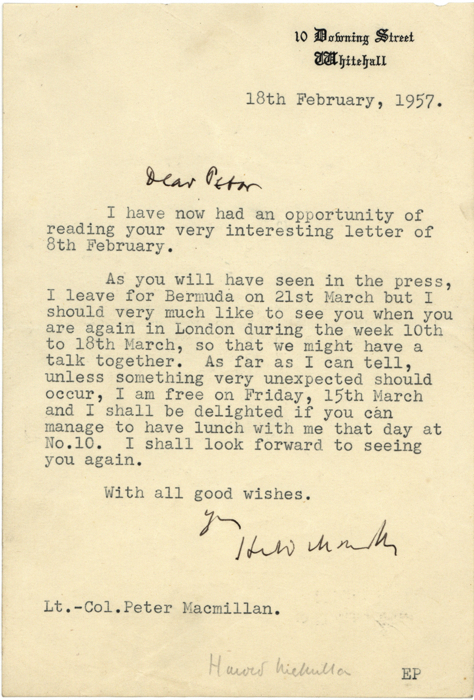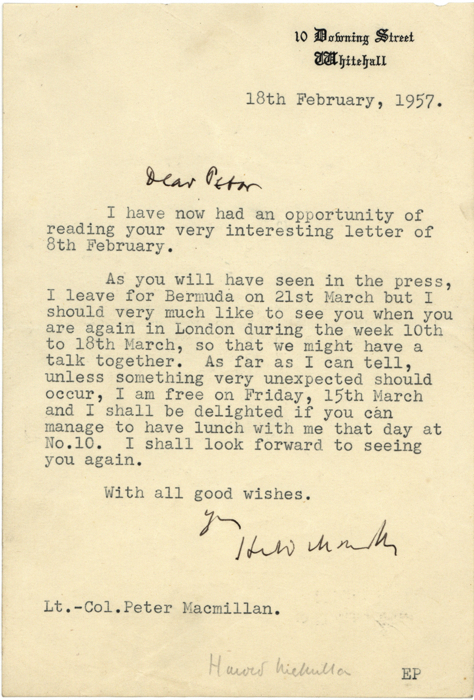 MacMillan, Harold, 1st Earl of Stockton: Signed letter writing about Bermuda
MacMillan, Harold, 1st Earl of Stockton (1894–1996)
British Prime Minister Harold MacMillan writes of traveling to Bermuda.
Conservative prime minister of Great Britain from 1957 to 1963. TLS as prime minister ("Harold MacMillan"). 1 page. 8vo. (4 ¾ x 7 inches). London, 18 February 1957. On his embossed 10 Downing Street stationery. To Lieutenant Colonel Peter Macmillan (possibly Royal Artillery officer Peter MacMillan, 1913-1974).
I have now had an opportunity of reading your very interesting letter of 8th February. As you will have seen in the press, I leave for Bermuda on 21st March but I should very much like to see you when you are again in London during the week of 10th to 18th March, so that we might have a talk together. As far as I can tell, unless something very unexpected should occur, I am free on Friday, 15th March and I shall be delighted if you can manage to have lunch with me that day at No. 10. I shall look forward to seeing you again. With all good wishes. Yours Harold MacMillan
MacMillan distinguished himself fighting in World War I, being wounded on three separate occasions. After the war, he joined the family publishing business but soon entered into politics. A series of political appointments included housing minister, foreign secretary, defence minister, and chancellor of the Exchequer. As a protégé of Winston Churchill, in 1957 he became Prime Minister, and sought to move the English economy forward after the ravages of World War II.
MacMillan also helped normalize Anglo-American relations after the damage done to that relationship by the 1956 Suez Crisis. His efforts included a March 1957 meeting with American President Dwight Eisenhower in Bermuda, the upcoming trip mentioned in this letter.
The recipient of our letter is possibly Royal Artillery officer Peter MacMillan who successfully escaped Japanese imprisonment in Hong Kong in 1942. After the war, he held positions at the War Office, British Joint Services Mission in Washington and, at the time of our letter, was the assistant adjutant & quartermaster general at HQ Anti-Aircraft Group. At the end of his long military career he had attained the rank of lieutenant colonel.
Darkly signed in full beneath holograph closing. Also bearing a holograph salutation. Light general wrinkling. Very good condition.