Belcher, Andrew: Letter to B.C.T. Gray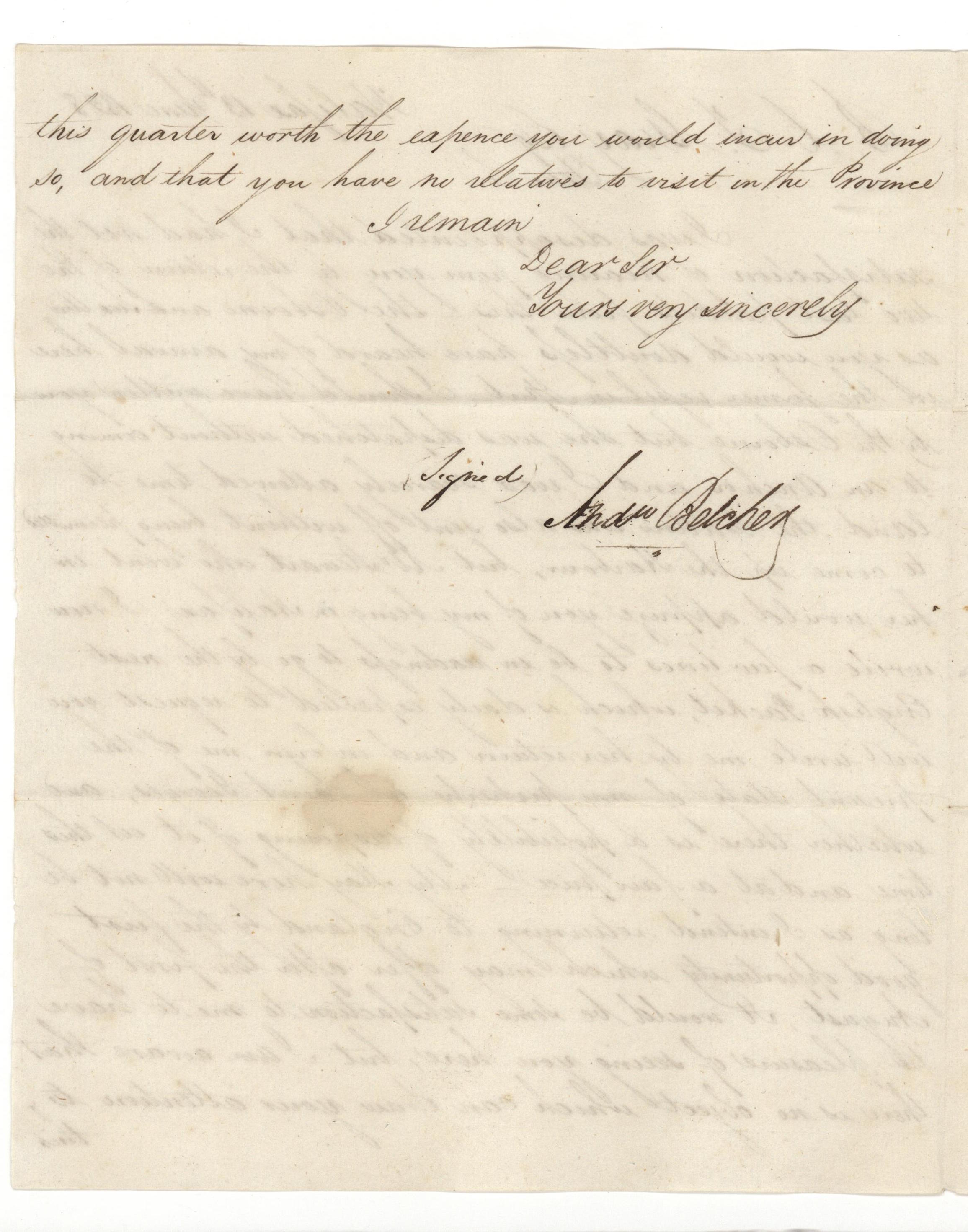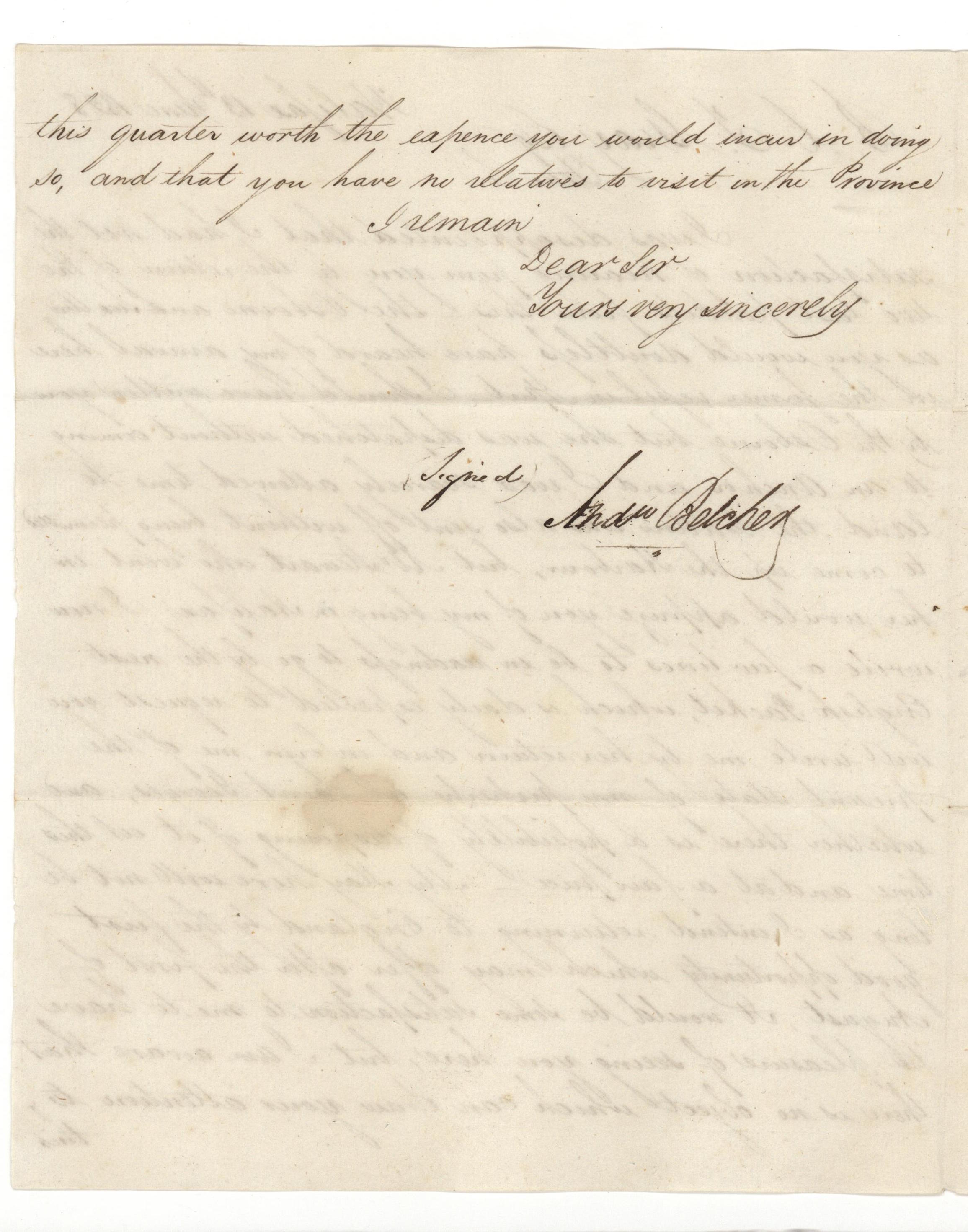 Belcher, Andrew: Letter to B.C.T. Gray
Belcher, Andrew (1763–1841)
Letter written by Andrew Belcher to B.C.T. Gray, 13 June 1828
Andrew Belcher. (1763-1841). Canadian merchant and politician with business interests in Bermuda. Letter signed. ("Andw Belcher"). 1 1/8 page. 8vo. (approximately 7 ½ x 9 inches). Halifax, 13 June 1828. To English merchant B[enjamin]. C[harles]. T[homas]. Gray in Bermuda.
Dear Sir, I was disappointed that I had not the satisfaction of hearing from you by the return of the two last packets from this – the Osborne and Swallow in the former vessel in April. I should have written you by the Osborne but she was dispatched without coming to an Anchor and I was scarcely allowed time to land the Swallow was also sent off without being permitted to come up the Harbour, but Mr. Stewart who went in her would apprize you of my being in Halifax. I now write a few lines to be in readiness to go by the next English Packet, which is daily expected to request you will write me by her return and inform me of the present state of my property at Saint Georges, and whether there is a possibility of disposing of it at this time and at a fair price. My stay here will not be long as I intend returning to England by the first of August. It would be some satisfaction to me to have the pleasure of seeing you here, but I am aware that there is no object which can draw your attention to this quarter worth the expence you would incur in doing so, and that you have no relatives to visit in the Province. I remain Dear Sir Yours very sincerely (signed) And[re]w Belcher
Belcher was one of the most prominent merchants in Nova Scotia during the late 18th and early 19th centuries. His financial success earned him various elected and appointed positions in the community, including justice of the peace of Halifax. In 1811, while remaining active in both the business and civic life of Halifax, Belcher moved to London. His fortune was adversely affected by the recession of 1826, at which point he moved from London to the English countryside to escape the harassment of his creditors. A further financial setback befell Belcher in 1828 when he lost his contract for provisioning British military instalments at Halifax and Bermuda. 'In a frantic effort to avert bankruptcy, he pleaded with his Nova Scotian friends for extended credit, as well as assistance in securing some appointment – provincial agent in London or [provincial] treasurer in succession to Michael Wallace. Finally, early in 1829, a desperate Belcher returned to Halifax to assume personal direction of his surviving business interests,' (David A. Sutherland, 'Andrew Belcher,' The Dictionary of Canadian Biography). Our letter is clearly written during this financial distress and illustrates Belcher's eagerness for news of his business concerns in Bermuda.
Benjamin Charles Thomas Gray was founder of the London firm B.C.T. Gray and Sons which imported from the Caribbean goods including beef, pork, flour, cocoa, timber, limes, molasses, and rice.
Our letter mentions the packet ship HMS Swallow, a Royal Navy brig-sloop which operated between 1824 and 1836, and HMS Osborne, a 16-gun ship launched in 1805.
Folded and in fine condition.